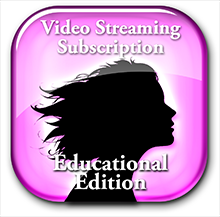 New Lower Price!
1 Year Video Streaming Subscription - Educational Edition
Your school can now subscribe for unlimited video streaming! Our entire library of online training videos available for streaming now. Our library is at your disposal for your students learning needs. Watch instantly via the internet. No wait time for delivery. No shipping costs. The annual subscription price is only $698.00. Public in classroom viewing rights included.
Testimonials: "Let me just say this up front, I love Aesthetic VideoSource. I've seen many of their videos, I recommend them on my esthetician sites, and can tell you they are of superior quality. When I was in esthetic school, I got the opportunity to watch many of their videos. I've been trained to do facial massage, and am licensed as a skin care specialist. The videos are top notch, professionally done, and show you hands on techniques. They are the 'go to' source in the industry due to the quality of their products." — Deb @ www.bodymindandsolar.com/blog, USA
"I love your videos, they are one of the best. Perfectly arranged and very informative. More of them, please." — Jolanthe O., Germany "Interested in expanding business through expanding knowledge, thank you for the services you offer." — Kay B, Georgia "Love what you are doing for the aesthetician world!" — Beatrice B., Florida
Here is a list of titles that are available for unlimited viewing online with this subscription
For more information about video streaming subscriptions for academic institutions and libraries please click here.
Featured in Dermascope Magazine July 2012 & DaySpa Magazine, June 2012