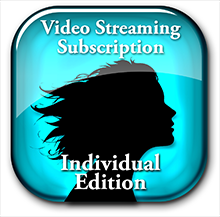 New Lower Price!
1 Year Video Streaming Subscription - Individual Edition
You can now subscribe to unlimited video streaming! Watch instantly on your computer. No wait time for delivery. No shipping costs. Our entire library of 93 online training videos and 164 hours of instruction is available for your training needs. Learn to provide a new service today for your clients.

Get unlimited access to our entire online video library for one full year.
Testimonials:

"Being a Busy Beauty Professional, it is a challenge to always attend classes due to travel time & expenses. Aesthetic VideoSource gives me the opportunity to stay cutting edge while learning new skills at my leisure. ... The individual edition Video Streaming Subscription is an excellent time saver on learning at your own pace. I love it so much." Trenell M., California
"Aesthetic VideoSource put me back into business by providing an affordable product that actually teaches you how to do the procedure." — Richard L., Florida "I am so thankful that I found your website. I will order more interesting videos to gain more knowledge about my profession. Thanks!! " — Cynthia S., Sweden "The convenience of video learning in my spare time is great thanks." — Nivea C., New York "I love your videos, they're very helpful and I use them all of the time. I think that every skin care therapist, even though they have experience, can benefit from these videos since there is so much useful information. I really admire Aesthetic VideoSource for their business." — Florita S., Illinois
Here is a list of titles that are available for unlimited viewing online with this subscription
How to access the videos after purchasing subscription
Click on add to cart to get instant access to everything for 1 full year.