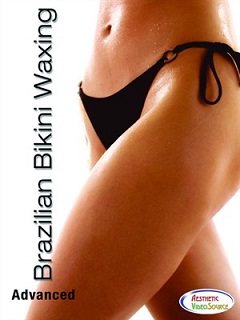 Award Winner
Advanced Brazilian Bikini Waxing
WATCH PREVIEW
Let 'er rip with some new techniques and colorful, creative twists on Brazilian bikini waxing. In this instructional Brazilian wax video, Ashlie Long demonstrates how to provide four different types of bikini wax services, ranging from the traditional to some fresh, up-to-date options: Classic Brazilian, Sphinx, Customized Designs (with template and freehand), and Color. The Brazilian waxing training demonstrations show how to remove some or all of the hair in the bikini area — front and back — with hard and soft wax simultaneously. For color, Ashlie shows how to use two types of products: one with a two-step approach, and another that is a one-step approach. Step-by-step instructions show you how to prepare and position clients and minimize client discomfort. You will also learn about table set-up, required supplies, hygiene, available product types, post-treatment tips, benefits and contraindications, and tips to keep your clients coming back in this Brazilian waxing course. By applying the training you'll receive in this Brazilian wax DVD, you'll be confident in providing this modality to your clients.
Warning: This video contains full nudity. View at your own discretion.
To see the other videos in the Professional Waxing Collection set click here.
To see the other videos in the Hair Removal Collection set click here.
Testimonial: "The Advanced Brazilian Bikini Waxing DVD is Terrific! Some of the girls have been trained but weren't quite getting it. The difference in their performance after viewing the DVD was night and day." — Lilia B, California
"This is a must have for anyone who wants to learn how to do bikini waxing or want improved technique! I have a salon and I have all my estheticians watch this video no matter how much experience they have. Each one of them has learned something and has improved their technique. I was very impressed with the quality of this video and recommend it highly to anyone interesting in bikini waxing." Kaylee Barnes, NY, USA"Great DVD! Worth the price. This DVD will help me a lot in my career. … it is a great resource." Kimberly D Paric, AZ, USA"Educational. My wife ordered this on my account. She is an Esthetician, and said that there are tips for everyone in here. She seems to have watched it more than just a few times so I guess it was worth it." Michael Mahon, USA"I thought this video was well organized and explained some things well. The woman teaching is obviously a wax master and seems like she would be an amazing teacher in person. ... I think it is a good video to refer back to for placing wax and directional pulling. … I do recommend this video for your demo library as a reference tool." Moon2Chu, USA"New tips and tricks. Whether you're experienced or just starting out this video will and can help your technique for bikini waxing. Being an owner of a day spa I purchased this DVD to show my employees some new tips etc. And all of my clients, new or old, have had nothing but compliments on the wax they had received. So needless to say this DVD has a lot of good stuff in it, I believe you won't be disappointed with the outcome it has on your business." Connor, USA"Great video! I have worked as a licensed Esthetician for over ten years and recently opened a day spa. I purchased this video to help my employees become better with their Brazilian bikini waxes. This video deals with simple and advanced waxing techniques. Ashley Long is a wonderful instructor and her techniques are top notch. We all learned new techniques and I could not be happier. I recommend this to all in this profession." Antonio Koebble, USA"As a skin care specialist I cannot recommend this DVD on Brazilian bikini waxing enough. I was highly impressed with how this video was filmed and the quality throughout. The instructor is clear and detailed in her demonstration of four different bikini wax services. The step by step instructions cover a lot of area such as, how to remove hair, hygiene issues, how to position the client and minimize any discomfort. I learnt so much from the techniques on this DVD and have already put it into practice at my salon." Donna Causer, UK"I have done facial waxing at the spa I work at for many years, and recently when our long-time body waxer decided to retire, I chose to step up and take over some of her clients. I knew it wouldn''t be easy pleasing the long-time clients of my colleagues, especially those who had been seeking her services for bikini waxes for many years. I've done bikini waxes before, and I continue to do them for myself and close friends who are too squeamish to go into a salon. Brazilian bikini waxing is--dare I say--an art form that takes lots of practice and lots of knowledge to perfect. This 2 hour and 14 video will help to take any novice bikini waxer to then next level. I never could have imagined all that I would learn, and everything that I had no idea about in the past. This video covers the technical skills and safety information to help any professional master the Brazilian bikini wax, as well as hair shaping with stencils (and without), hair tinting, and best positions for a successful wax. Best of all, the instructor covers how to make a client comfortable--especially first-time clients who tend to be the most nervous. Learning different draping techniques was really helpful for me. Ashlie Long, the instructor, provides wonderful consultations, and learning from her style, I believe I've been able to make my customers feel more at ease than I EVER expected that I could. When I shared with my colleague what I had learned, she confirmed many of the things that I had seen in the video. It was great to know that such a seasoned professional agreed with the information and techniques in this video." Fired up Beauty, USA"In my salon, I offer a multitude of services. One of those is leg waxing. When I decided to begin offering Brazilian Bikini waxing, a good friend recommended this video as she had purchased it for personal use. She had only great things to say about it so I gave it a try. I am pleased to say that this video has been an essential training tool for all of my staff at the salon. I made sure that all of my new employees watch this video and we all refer back to it occasionally to reinforce our training. It is a well laid-out video that shows you quickly and precisely the best technique to get perfect results every time. Our clientele has been thrilled with our results and business is booming. I owe much of the pain-free training process to this video purchase." Stacy Block, USA"This was a great DVD with tons of information. I am not the kind of person who would be comfortable going in to get myself waxed by someone else. Plus, with my hair growing back so quickly, it would get expensive. So, I spent time reading numerous posts and watching videos on the internet. That, along with some cautious trial and error, got me about half the information in this video. This was so helpful! For the cost ($50 as of posting) that is less than 1 trip to get a full Brazilian , it was completely worth it to have all this information and more in one place. I am much more confident and successful with my at home waxings because of what I learned in this video. I saw a lot of posts talking about how it is great for training and those who give waxes as their profession, which is the audience it is aimed for. This video can be great for at home waxers too! I would absolutely recommend this video to anyone looking to give a Brazilian wax, even if it's for yourself. It was so helpful to have all this useful information in one place, and completely worth the cost." Tiniferous"Nice DVD teaching for anyone who is in the esthetician field and wanting to learn how to expand their business from basic waxing of face, eyebrows, legs and underarms to the bikini region." ReviewJunkie
Received Silver Davey Award; Featured in About.com, Skin Deep, Les Nouvelles Esthétiques & Spa, and Dermascope Magazine
2 Hrs. 14 Mins.