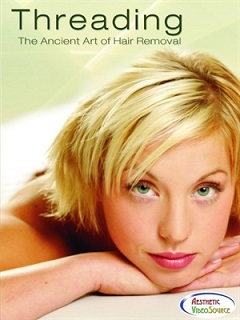 Threading
The Ancient Art of Hair Removal
WATCH PREVIEW
Threading is an ancient form of hair removal from the Eastern world that is becoming the newest rage in the West. It involves precisely twisting a length of regular cotton thread along unwanted hairs. The twisting action traps the hair and lifts it out of the follicle. Like with tweezing, the results can last up to two to four weeks. With regular treatments, hair re-growth becomes finer and sparser. Threading is a fast, effective method for hair removal, particularly popular for removing fine facial hair and shaping eyebrows. In addition to facial threading and eyebrow threading, it can also be used to cover large areas, such as the legs and arms. In this instructional DVD, Saira Soleri teaches how to thread on the face, ears, and feet. She also covers benefits, contraindications, tools, and marketing.
To see the other videos in the Hair Removal Collection Set click here.
Testimonial: "Very interesting!!!" — Lataucha M, Florida
"Great Video! Threading can be very difficult to learn, however, this video made it much easier! What I've learned about Threading is that it takes a lot of practice. I've seen some of those budget clips on Youtube and they were useless! This video teaches the true fundamentals of threading thoroughly and with practice I think most people can learn how to do it. I was really impressed with this video and recommend it to anyone wanting to learn how to do threading!" Jesse Byerly, CA, USA"There is a reason that threading is one of the oldest hair removal methods known to man; it is truly an art, and when done right, it is preferable to many other hair removal methods in terms of results, pain level, and speed. This video goes through full length hair removal sessions as well as all of the techniques that you could ever need. I've loved threading ever since I first experienced it as a teenager. In the past, I had difficulty picking it up, but this video really helped me to get the hang of it. Saira is a very skilled threading expert and even better instructor. They way she shapes eyebrows is fantastic, and the way she uses threading to quickly remove undesirable hair from larger areas like the jaw line and lip area helped me to have hope that I could make hair removal as fast and almost pain free as her. Taking advantage of this hair removal method is great for people who for whatever reason cannot tolerate waxing. There is much less potential for skin irritation and other issues. I really appreciated that Saira went over the common mistakes that people often make; I know that I'm guilty of and have seen these mistakes in the beauty industry time and time again. This video is a great guide to best practices and techniques for different areas. I truly think that every esthetician should add threading to their repertoire!" Muagirl88, USA"This instructional DVD about threading is fantastic. It shows us step-by-step demonstrations which are very detailed and very easy to follow. It covers all the fundamentals, the techniques and benefits for hair removal using threading. I love this video so much and I feel more educated as a result." K. Moir, USA
1 Hr. 7 Mins.