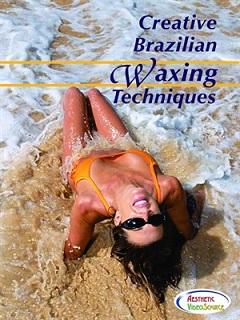 "Worth a Look" in Dermascope
Creative Brazilian Waxing Techniques
WATCH PREVIEW
Two experts, Eva Mileski and Teresa Halencak, demonstrate Brazilian bikini waxing using hard wax and soft wax on female models, with and without disposable panties. In this instructional video, Eva and Teresa guide you through preparing the skin, trimming the hair, positioning the client, decreasing client discomfort, required equipment, proper wax consistency, and skincare after waxing. The demonstrations show how to remove all the hair in the bikini area — front and back.
Warning: This video contains full nudity. View at your own discretion.
To see the other videos in the Professional Waxing Collection set click here.
To see the other videos in the Hair Removal Collection set click here.
Testimonial: "I recently purchased your brazilian waxing video, and I am very happy with the service I received. Customer Service took care of me and went 'above and beyond' in order to help me out. This is one very pleased & happy customer. Thanks for everything." — Kara Y, California
"Bikini Brilliance! This was the second video I bought made by Aesthetic VideoSource and it was really great! This videos goes through the process of Brazilian bikini waxing slowly showing all each step. The instructions are so easy to follow. After I watched the video just one time, I felt so much more comfortable and confident offering this service to my clients. I would highly recommend this to anyone who wants to learn how to do Brazilian bikini waxing. You won't be disappointed!" Holly Beckman, NY, USA"Good lessons, I would have liked to have seen this one while in school with other students to share opinions. But I consider it a good investment. I learned a lot from it but like others not everyone is going to be as "cleaned up" as the models here. But after watching it a few times I feel rather confident I can deal with the hairy ones anyway." Elizabeth B Browning, Anjeong-ri South Korea"What a great DVD. This was just what I've been looking for. As a beautician waxing is not the easiest thing to do but this DVD has given me more confidence. Even though I have been trained at college they only went through the basics of waxing but this shows you how to wax difficult areas of brazilian waxing and hair removal. It shows very clear and close up views of the techniques so you can actually see what the tutor is doing. This is the best waxing video I've seen in a long time." R. Segers, USA"I'm an esthetician and this intrigued me. I get many female clients that like to switch it up, and we're only taught so much in school. It offered great tips and insights on so many different techniques! It ranges from full body waxing, Brazilian waxing, to soft and hard waxing plus so much more! This was a great refresher and also taught me many new techniques. I feel comfy lacing this into my practice and I would recommend it to any esthetician." LunaLuv0, USA"I am very happy with my purchase of this instructional DVD about creative Brazilian waxing techniques. The experts are very detailed and they demonstrate Brazilian waxing using soft and hard waxes. This is a very informative DVD." K. Moir, USA
Featured in Dermascope's "Worth a Look" & About.com
1 Hr. 11 Mins.