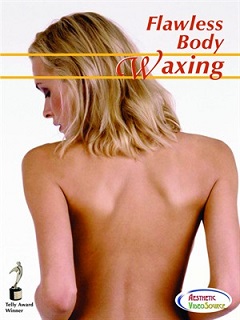 Award Winner
Flawless Body Waxing
WATCH PREVIEW
This award-winning instructional DVD features three experts — Eva Mileski, Ofra Gaito, and Nicole Reposeur — who demonstrate various body waxing techniques on the legs, bikini area, feet, arms, hands, and underarms. These advanced demonstrations use different waxes (hard, soft, and roll-on wax), different body types, and various techniques, including speed waxing techniques. The expert aestheticians also discuss skin preparation, wax temperature, client positioning, and methods for reducing client discomfort. Warning: This video may contain partial nudity. View at your own discretion.
To see the other videos in the Professional Waxing Collection set click here.
To see the other videos in the Hair Removal Collection set click here.
Testimonial: "I Love this site your videos seem to be very informative. You will be hearing from Me soon." — Shay C, Missouri
"What a great video. I've seen almost every waxing video on the market and this is by far one of the best. It shows quite a few procedures and each is shown slowly step-by-step. You will love this video!" Holly Beckman, NY, USA"High Quality DVD about Body Waxing. This DVD is very informative with easy to follow instructions of the body waxing process. I recommend it to any Esthetics student who wants to become fast and efficient at waxing. It is a great educational tool you can use to watch several times to really get a grasp of the techniques covered. The more you watch it the better prepared and more comfortable you will feel when you begin doing body waxing. I purchased this DVD as I am a professional esthetician who is always looking to improve my knowledge and technique. You should also get this DVD if you are in this line of work." Ang Yonglin, USA"I can't thank you enough for what I have learned through this video tutorial. Now my waxing is so much better and my clients are happier. Simply, you are awesome and this DVD is totally worth buying." Bo Savich, USA
Received Bronze Telly Award; Featured in Massagemag.com, Dermascope, About.com, "Worth a Look" in Dermascope, Massage & Bodywork
1 Hr. 43 Mins.