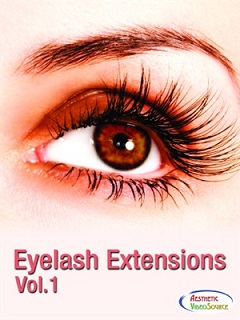 Eyelash Extensions Vol. 1
WATCH PREVIEW
With this training DVD, learn how to provide long, luscious eyelash extensions. Leslie Graham, an award-winning professional make-up artist, shows you how with step-by-step instructions and extreme close-ups. You'll learn how to prepare your clients, select lashes, set up your workstation, apply individual eyelash extensions, and remove extensions. You will also learn about safety and sanitation, precautions, required supplies, available product types, client information and consent forms, eyelash growth cycle, aftercare instructions, and tips and tricks to make the application faster and more efficient. Leslie also demonstrates how to provide three looks on models of different ethnicities (African-American, White, and Asian): a dramatic look with "C" extensions with synthetic lashes, a natural look with a full set of extensions with synthetic lashes, and an elegant look with a full set of mink lashes (the "crème de la crème" of extensions). Welcome to the eye-opening world of eyelash extensions.
To see the other videos in this set click here.
To see the other videos in the Eylash Extension/Party Lashes set click here.
To see the other videos in the Leslie Graham Super set click here.
Testimonial: "I love your videos, they're very helpful and I use them all of the time. I think that every skin care therapists, even though they have experience, can benefit from these videos since there are so much useful information. I really admire Aesthetic Videosource for their business." — Florita S, Illinois
"Great educational video with clear close ups, Outstanding training video for learning the correct way to add eyelash extensions. Covers the common customer request and different styles. I really like how this particular video has clear close ups and great angles so that you can see everything the instructor is doing as she tells you exactly what she is using and why. Made me feel considerably more comfortable working with salon customers doing lashes. With the eyelash extension market being so in demand, it literally pays to know this information!" Miss Jena, TX, USA"As a beauty specialist I cannot recommend this DVD enough. It is one of the best instructional videos I have seen about adding eyelash extensions. The instructor is very detailed with her demonstrations and the camera angle are close up so you can see everything with clarity. There are many tips and techniques that you will learn and I was so happy that I bought the two Eyelash extension DVD's from this seller." K. Moir, USA"I bought this Eyelash Extensions Training DVDs in order to improve my skills as a make up artist wanna be. They have really helped in so many ways and the friends of which I have tried some of the techniques are very satisfied from my service. This will help me a lot when I advance in my career and I warmly recommend them to any aspiring make up artist." Bojan Savich, USA"I work as a professional make up artist. Some of my clients are brides, and some of my professional clients are models used in photoshoots and other productions. More and more of my clients and modeling customers were coming to me saying that they love false eyelashes, but wanted the full, beautiful look without sometimes obvious and uncomfortable bands. Many women want to achieve the long, full lash look without the daily mess of gluing a pair on for special occasions. As a result of the demand where I live and work, I decided that I wanted to become proficient in professionally and safely applying eyelash extensions. I wanted to learn the tricks to applying extensions that look great and feel comfortable to wear, and of course, how to apply them so that they will last a long time. This training DVD as well as other DVDs from this company's collection have helped me immensely with learning the best practices and procedures for doing high quality, sanitary eyelash extensions. This guide is incredibly thorough and even goes into the best way to achieve certain styles. Having more knowledge has helped me to consult with my clients and ensure that they know what they want and know how to maintain their extensions." Stacey, USA"As a professional makeup artist, eyelash extensions are something I use every day on my clients. I have had the good fortune of expanding my business to include, not only doing makeup on clients but offering classes to teach students how to become makeup artists as well. This video is the best I have found and is a great addition to the hands-on training that I provide my students. Step-by-step, how-to applications are taught in this video and it is always the first thing I show my new students. It provides the base for the hands-on techniques I show them afterwards. I know my classes were a lot more tedious before I introduced this training video in to my curriculum. Very glad I found it!" Stacy Block, USA"Great video, even better customer service! Will definitely recommend to fellow artists." Missmauimac"The videos were helpful." Debbie Shaw"This DVDs was very helpful in troubleshooting lashes. I would highly recommend it to anyone looking to learn or just brush up on their skills." Harmon & Jessica Meeker
2 Hrs. 59 Mins.