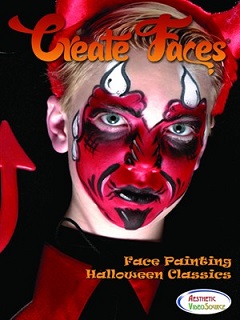 Award Winner
Create Faces™ Face Painting
Halloween Classics
WATCH PREVIEW
Be a clown... a marauding pirate... or a wicked witch. With a little face paint and imagination, your transformation can be quick and easy. Professional clown and face painter Sharon Neilson demonstrates just how easy it is. In this instructional DVD, she shows how to paint eight different full-face designs: Princess, Devil, Clown, Pirate, Witch, Scarecrow, Alien Monster, and Superhero. She also discusses supplies and cleaning. For professionals working fairs and birthday parties, Sharon also provides tips on working with children and marketing.
To see the other videos in this set click here.
Testimonial: "Awesome DVD's! This is my second order, Thank you. I think your videos are GREAT and I'm a fully qualified beauty therapist." — Kelly P, Australia
"Bought this for our kid's Halloween party just the other week and my wife and sister in law had fun recreating some of these classics. The kids loved it, the adults had fun seeing the faces and masks come to life and all in all it was a most enjoyable night. Love the simple face painting techniques covered, the step by step instructions are so easy to follow, and it's quite easy to achieve the looks that are demonstrated in the DVD. With 8 different face painting designs, we had just enough for everyone to have their own design. So great!" James, New Zealand"I've watched a few different face painting videos featuring Sharon Neilson before, and she is a fantastic instructor. The face painting DVD Is really fun to watch and includes lots of cool designs. If you need to learn the face painting basics and get comfortable with this craft, I highly recommend this. She goes over her techniques and includes helpful information for beginners and seasoned face painters alike. If you're a cosmetologist or makeup artist and you want to expand your art to include face painting for events, this is a great way to start. I'm a jack of all trades when it comes to my work, and doing birthday parties and events has added another enjoyable facet to my work. The designs are quality, easy designs to change up. These are a bunch of the common requests for Halloween, and I'm glad I brushed up on this before the Halloween season last year. Kids love these designs and picking a handful to master has made me even better. Its less overwhelming if you practice a bunch of face painting designs and then pick up another DVD to try some new ones! It's not intimidating at all. I loved the tips on product choices and techniques. I'll definitely be picking up some of the others in this series!" Meghan Parker, USA
Received Silver Davey Award; Series featured in Working Mother
1 Hr. 45 Mins.