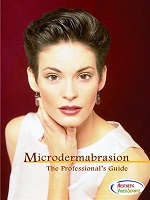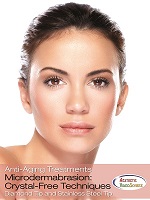 Microdermabrasion Set
Get both Microdermabrasion DVDs and SAVE 20% ($27.90)!
Includes:
S22D Microdermabrasion: Crystal-Free Techniques. Crystal-free diamond tip and stainless steel tip microdermabrasion are an ideal offering for older clients and those with drier skin. With microdermabrasion, you can decrease the appearance of superficial hyperpigmentation, photo-damage, diminish fine lines, wrinkles, and shallow acne scars. Your clients will love their improved skin smoothness, texture, and luminescence. These crystal-free alternatives avoid messy crystals that risk getting grit in clients' eyes, while providing the results that clients are seeking. Tina Marie Zillmann walks you through complete protocols from client consultation to the step-by-step instructions, with both types of microdermabrasion machines, for treatments on the face, ears, décolleté, and shoulders. She demonstrates a skin analysis with a scope, cleansing with salicylic and melanin-suppressant cleansers, toning with salicylic toner, salicylic peel, post- peel balm, glycolic peel, retinol peel, extractions with cotton and needle, scalp and décolleté massage, eyebrow wax with hard wax, soothing clay mask, and sun block with zinc and titanium oxide. Throughout, she provides cautionary tips and hints for these exfoliating treatments, sun-damage treatments, as well as benefits and contraindications. She also discusses the features, settings, types and sizes of tips, filters, and how to operate and sanitize the crystal-free microdermabrasion units. She also demonstrates how to use an ozone facial tool to disinfect skin, an ultrasonic cold hammer to reduce inflammation, and a steam autoclave for disinfecting and sanitizing your equipment. She finishes with a post-treatment client consultation discussing a home care regimen. Sample client consultation forms are included. 2 Hrs. 7 Mins.To see more on this volume, click here.
S10D Microdermabrasion: The Professional's Guide. Let three professional estheticians — Christine Heathman, Janelle Muldner, and Carolyn Veroni — guide you through microdermabrasion techniques for the face, neck, chest, back, arms, hands, and feet. This all-in-one training DVD teaches you the basics about the skin and the effectiveness of microdermabrasion treatments with aluminum oxide crystals (corundum), and shows step-by-step how to perform microdermabrasion techniques on 7 clients. The experts also discuss anatomy and physiology of the skin; skin analysis; specialized acne treatments; physiological effects of microdermabrasion; microdermabrasion machine selection, care, and maintenance; benefits and contraindications; post-microdermabrasion skin care; and how to market microdermabrasion products and services. 1 Hr. 30 Mins.
To see more on this volume, click here
.
Testimonial:"I love your videos, they're very helpful and I use them all of the time. I think that every skin care therapists, even though they have experience, can benefit from these videos since there are so much useful information. I really admire Aesthetic Videosource for their business." — Florita S, Illinois
"Wonderful! This is a great video and one of the only ones on the market that shows comprehensive microdermabrasion procedures. Watching this video is much better and more beneficial than any class I have taken." Holly Beckman, NY, USA"Great Resource. Add this DVD to your skincare collection. It's a comprehensive guide that explains the "how's" and "why's" of microdermabrasion in a clear and understandable format. Every student and esthetician will benefit from this information-packed DVD. I've purchased several DVD's from Aesthetic Video, including European facials, Acne, Lymphatic Drainage and the waiting room DVD's. All have been high quality, informative tools which are an asset to my profession." Irish Girl, USA
3 Hrs. 37 Mins.