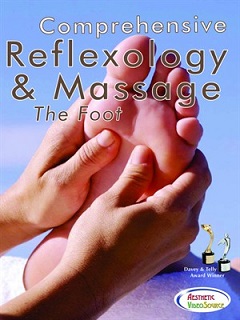 Award Winner
Comprehensive Reflexology & Massage
The Foot
WATCH PREVIEW
Get a foothold on reflexology and massage of the foot with expert massage therapist, Meade Steadman, in this instructional DVD. Meade provides detailed instruction, demonstrating the strokes and techniques on both the right and left foot and on different models: young and old, male and female. For the foot reflexology section, Meade discusses the body's physiology, contraindications (particularly geriatric concerns), history, and how the anatomy of the foot maps to each part of the body. The comprehensive foot massage demonstration shows techniques to work the foot and lower leg for flexibility, relaxation, and improved circulation. Meade's demonstrations show how to warm up the feet, work the "whole body" for balance, and focus on specific areas of concern.
To see the other video in this set click here.
To see the other videos in the Meade Steadman Super set click here.
Testimonial: "Dear Meade Steadman, I would love to have your hands on my feet!! The Comprehensive Reflexology & Massage: The Foot was very well done. Your rhythm, confidence and knowledge exuded great trust and experience. I loved your techniques." — Karen W, Bahamas
Great effort and a great lesson. The title is appropriate for the content presented in this DVD. Having never studied massage techniques nor received such massage treatment, I found the explanations and camera angels to be informative. But read other reviews, because I don't have any means of comparison! The therapist goes through different techniques and demonstrates them despite his own preferences. The most interesting part for me was the anatomy of the foot and how it directly relates to the rest of the body. I'd recommend this video to anyone who interested, but might not be as useful for advanced therapists or professionals. C Lee, USABest reflexology DVD! Excellent DVD. It goes over several different techniques and anatomy of the foot . I learned a lot watching it the first time. Thomas J Consulting LLC, USA"As an experienced massage therapist I actually know very little about reflexology and massage of the feet so I was keen to find an instructional video on this issue. This two hour comprehensive DVD was very educational and has taught me so much. The massage instructor was extremely detailed and demonstrated all the techniques required for foot massage. I especially found interesting how the feet have a direct correlation with the rest of our bodies regarding circulation and relaxation. I will now be offering reflexology & massage of the feet to my clients and I recommend this DVD to anyone interested in this area of treatment." D. Smith, USA"My customers and wife are thanking me for the great foot massages they are receiving from me. I'm telling them that I have natural talent to give great massages, but the secret is that I have learned them from this dvd. As the title states, this techniques are very comprehensive and they are explained perfectly easy. With little practice I have learned to implement them very fast and they are fantastic!!" Bo Savich, USA"Awesome as always, Love Meade." Denise R
Received Gold Davey Award; Received Silver Telly Award; Featured in Dermascope, Dermascope "Resources", Spa Management, Massage & Bodywork, Les Nouvelles Esthétiques & Spa, and Massage Magazine
1 Hr. 28 Mins.