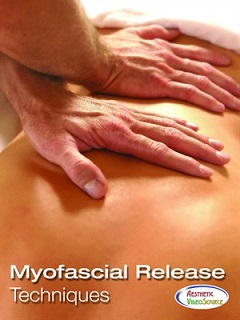 Myofascial Release Techniques
WATCH PREVIEW
In this myofascial release technique DVD certified massage therapist, John Hoffmann, demonstrates the strokes and techniques for a detailed myofascial release training session for the entire body. In this comprehensive myofascial DVD, he also addresses benefits and contraindications, warm-up, landmark muscles along their anatomical path, and how to address specific complaints. Through the development of disease or injury, the fascia can become restrictive and a source of tension, exerting pressure, causing pain, and limiting mobility. Myofascial release techniques help to smooth out the fiber, allowing the body to move and function properly. This deep tissue massage, while promoting relaxation, creates change in the physical structure of the muscle and fascia. This three hour DVD is the most detailed Myofascial Release DVD ever produced. With the myofascial training you'll receive in this myofascial release course you can bring this modality to your clients with confidence.
To see the other video in this set click here.
Testimonial: "I truly love the massage videos--they've truly boosted my knowledge and have increased productivity in my practice!" — John B, Arizona
"Best course on myofascial massage! Before I start off this review I want to mention that I am a certified massage therapist and have been working in this field for over 7 years now. As part of my job I am constantly trying to develop my skills further in order to be able to offer my prospects the best experience possible. I have read many books and taken A LOT of courses on deep relaxation massage, but I can say that John Hoffman's DVD course made it all excessive. The program takes everything you need to know and compiles everything into one single program. Not only is the information on Myofascial release techniques incredibly solid, it is also very time saving as the instructions are concise and to the point. All I can say is that it is the best $49 that I have ever invested in a program. I would strongly encourage you to take a look at the product and consider purchasing it. If you are a massage therapist or are aspiring to be one, this DVD course will be as important for you as it was for me!" Sebastian, USA"This is very awesome DVD! Perfect for a therapist who wants to increase their skills! John Hoffman performs a lot of very effective myofascial release techniques in a precise manner while explaining the reason so effective. It has truly helped me to be a more effective therapist!" Rene Ratliff, USA"Fast Release Technique. Very effective video instructions for a beginner. Try the instructed techniques, these techniques work. I am not a PRO but can find this video very helpful and friendly." Ngongtroi, USA"What a great video! Very informative! Great educational information. So happy I found your videos. I learned SO MUCH in this myofascial release training video. John Hoffmann did a great job explaining and demonstrating all the techniques. I absolutely love this DVD. Wonderful resource for all therapists and students alike. With over 3 hours of massage therapy training, this is definitely worth what I paid for it!" Anne K, USA"Learning the therapeutic art and science of Myofascial release has been incredibly beneficial to my education as a massage therapist. I always strive to be the best that I can be at what I do, and improving my skill and expanding my knowledge to help a variety of different clients with different needs is an absolute necessity. This video is a great introduction to Myofascial release. Understanding the healing and therapeutic qualities and its ability to improve the movement and function of the body inspired me to learn, and this video does a great job of teaching all of the fundamentals. John Hoffman, the instructor of the course is wonderful. I felt as though I was learning right there with him. He is meticulously detailed and it is easy to see how he applies the principles of Myofascial release to the client. The video is very professional and easy to understand, and from what I have read on the subject, it includes everything that you need to know. If you're a massage therapist interested in expanding your knowledge base and continuing your education, Myofascial release is an extremely worthy discipline to learn, and helping patients as I have since taking this course is incredibly rewarding; more so than many other methods I've used in the past. This course is great and really contains all of the information you could want or need." Meghan Parker, USA"I never thought I could do it, but now I can say that I can give professional medical massages. My close ones and the clients are receiving quality massages only because of this DVD. I have learned so much, I can't take the creators of this DVD enough. This video contains comprehensive Myofascial release techniques that make my medical massage one of the best in the area. Recommended." Bo Savich, USA"Greatly informative video on how to give myofascial release." Barbara T, USA"Good DVD for all therapist and body workers." Michelle, USA"Very well done! Very educational and well-paced. Thank you John Hoffmann, for having a teacher's soul!" M. Koster, USA
Featured in Massage Magazine
3 Hrs. 22 Mins.