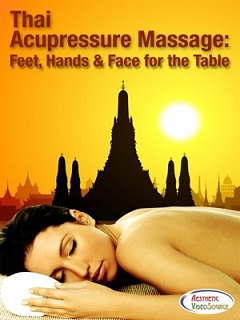 AWARD WINNER
Thai Acupressure Massage
Feet, Hands & Face for the Table
Dr. Anthony James, CMT, DPM, ND, MDAM, SMOKH, the top instructor in the United States, demonstrates how to provide a complete Thai acupressure massage for the feet, hands, and face; also a Thai reflexology balancing treatment for the feet and hands, all on a massage table. He walks you step by step through the procedures. Dr. James also discusses the origins of these techniques; chakras, lom and marma points, and Sen lines; benefits and contraindications; and, how to market these offerings. With the massage, you can help balance energy, bring a nurturing awareness to the client, and enhance circulation. A Thai acupressure facial provides a nonsurgical facelift. The reflexology treatments likewise offer rejuvenating benefits from increased circulation. The treatments will help correct dehydration, edema, swelling of the joints, and lack of motion.
Testimonial: "I Love this site your videos seem to be very informative. You will be hearing from Me soon." — Shay C, Missouri
"An excellent presentation and well done comprehensive information that can be incorporated into not only massage, but facial treatments. I would highly recommend!" - Kim G, Colorado"This is a terrific DVD for learning Thai Acupressure Massage! Having performed reflexology for several years now, I borrowed the DVD from a colleague to see if I could learn a new "twist" on my technique and fell in love with this one! Thanks Dr. James! Will definitely be back for more from Aesthetic Videosource and Amazon.com" - Cindy F, Texas"I think Dr. James's videos are perfect, whether you are a beginning esthetician/ massage therapist, or a seasoned professional. The techniques provided are presented in a way that is easy to catch on, but still keeping in tune with Thai tradition." - DeAngela N, Ohio
Received Bronze Telly Award; Featured in "Take Note" in Dermascope; Reviewed in Video Librarian
2 Hrs. 41 Mins.