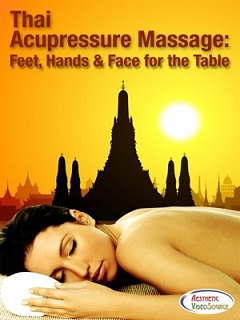 AWARD-WINNER!
Thai Acupressure Massage
Feet, Hands & Face for the Table
WATCH PREVIEW
Dr. Anthony James, CMT, DPM, ND, MDAM, SMOKH, the top instructor in the United States, demonstrates how to provide a complete Thai acupressure massage for the feet, hands, and face; also a Thai reflexology balancing treatment for the feet and hands, all on a massage table. He walks you step by step through the procedures. Dr. James also discusses the origins of these techniques; chakras, lom and marma points, and Sen lines; benefits and contraindications; and, how to market these offerings. With the massage, you can help balance energy, bring a nurturing awareness to the client, and enhance circulation. A Thai acupressure facial provides a nonsurgical facelift. The reflexology treatments likewise offer rejuvenating benefits from increased circulation. The treatments will help correct dehydration, edema, swelling of the joints, and lack of motion.
To see the other video in this set click here.
To see the other videos in the Dr. Anthony James super set click here.
Testimonial: "I Love this site your videos seem to be very informative. You will be hearing from Me soon." Shay C, Missouri
"An excellent presentation and well done comprehensive information that can be incorporated into not only massage, but facial treatments. I would highly recommend!" Kim G, Colorado"This is a terrific DVD for learning Thai Acupressure Massage! Having performed reflexology for several years now, I borrowed the dvd from a colleague to see if I could learn a new "twist" on my technique and fell in love with this one! Thanks Dr. James! Will definitely be back for more from Aesthetic Videosource and Amazon.com." Cindy F, TX, USA"I think Dr. James's videos are perfect, whether you are a beginning esthetician/ massage therapist, or a seasoned professional. The techniques provided are presented in a way that is easy to catch on, but still keeping in tune with Thai tradition." DeAngela N, Ohio"This is highly recommended for Esthetician like me. Easy to incorporate with the facial menu. It is a great tutorial especially for beginners." Kate Tecson, USA"A must have DVD! I am a newly massage therapist in the field and continually ordering DVD from Aesthetic Videosource. I especially love Dr James DVD Thai Acupressure Massage: Feet, Hands and Face. The presentation is well done and easily to understand. Whether you are a beginner or advance your clients will benefit from the massage technique you will learn from this DVD." Maxine Williams, USA"As an LMT, I am always looking for ways to improve my client's outcome. Many times clients want the "ooohhh" of a relaxing massage, but they also want relief from chronic or acute pain or discomfort. I have found Dr. James' Thai Acupressure Massage DVD a great way to meld both goals in a way which still does not disrupt the relaxation of the client. The techniques are shown and taught clearly, and are simple to include into a traditional massage. I started off with just a few for the feet, and have added more for the face and hands as I have become more adept. This DVD is very well made and shot, and my clients have loved the additional touches I can easily incorporate into their sessions." Paula Owens, USA"Wonderful addition to skills teaching library, Very helpful demonstrations for massage therapists, estheticians, and other practitioners. Clients will love the wonderful therapeutic benefits this video will help you achieve." Crimson, USA"Every esthetician should have this DVD!!! I love the techniques I learned from this DVD. I can't wait to see clients face afterwards!!! Every Esthetician should have this in their library." Nichole, USA"Amazing! I think Dr. James's videos are perfect, whether you are a beginning esthetician/ massage therapist, or a seasoned professional. The techniques provided are presented in a way that is easy to catch on, but still keeping in tune with Thai tradition." D Nixson, USA"A Wonderful Tutorial, This is a must have for Estheticians! You can easily do these techniques and provide an added value to your clients visits. They will remember you for it!" Beauty Moves, USA"Very easy to understand and to put in practice. Added to my practice, my clients love it." Alexandra Sanchez, USA"This DVD is incredible and I am so glad I made this purchase. I am very interested in Thai Acupressure massages and really want to offer this to my clients. This DVD has been very helpful in expanding my knowledge & understanding all the techniques. The instructor walks you step by step through the procedures and it is very easy to follow." K. Moir, USA"Learning Thai massage has been one of my passions, and this video focused on the hands, feet, and face covers many of the areas that I had not yet learned. This Thai acupressure massage series is incredibly well taught. The instructor Dr. James makes you feel like you are learning in the classroom of a true expert. He is great at assessing the needs of each client and making the experience healing and relaxing. This is the core of acupressure massage, and learning to make it equally therapeutic and enjoyable while resolving issues and imbalances is what makes this video so helpful. Learning to increase circulation and even administer a Thai acupressure facial was really interesting/ There is a lot of technical information shown that you absolutely have to see to master. I had read about these techniques (like the non-surgical face lift!) elsewhere, but I had never seen such a good example in person or in any other video. There are so many benefits that any massage therapist could benefit from learning. I'm very happy with the videos starring Dr. James as the instructor. The content is fantastic." Sarah Batten-Harris, USA"I am a licensed esthetician and am always interested in updating my skills. I have bought videos from Aesthetic Video Source before and I have found them to be top notch in education. Thai Acupressure Massage: Hands, Feet and Face For The Mat is no exception. Dr Anthony James is not only incredibly well qualified (he wrote the first English Thai massage book back in 1984) but he is also an amazingly natural teacher. I am able to confidently apply what I have learned from this video already. Throughout the video (over 2 1/2 hours long!) Dr James clearly explains what he is doing and why. The camera work is exceptional and it is so easy to follow along. The video begins with information about Thai massage and Dr. James's credentials. He then moves on to how to add this massage to your practice, then on to foot reflexology, then hand and then face. All three are interesting and easy to apply to an esthetics practice. The video ends with several extra methods such as hands free and chair massage. I really can't recommend this video any more highly. I had no knowledge of this type of massage before watching this video and now feel confident enough to incorporate this into my facial treatments. He has also piqued my interest in his technique and am thinking about taking some classes at his school." Barbie P"Great video. I've learned a lot from this video. I recommend it to anyone in the industry looking to polish their skills." Bonnie & Robert Davee"Great resource. Provides details that can easily be incorporated into existing protocols or assist in creating new services and revenue potential. Thank you!" Denise Baich
Received Bronze Telly Award; Featured in "Take Note" in Dermascope; Reviewed in Video Librarian
2 Hrs. 41 Mins.