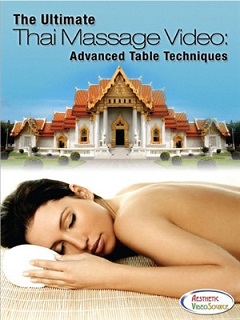 Series featured in Positive Health Magazine
The Ultimate Thai Massage Video
Advanced Table Techniques
WATCH PREVIEW
In this instructional DVD, learn more advanced therapeutic techniques to provide this beautiful, rhythmic healing modality on a massage table. Dr. Anthony James, CMT, DPM, ND, MDAM, SMOKH, the top instructor in the United States, walks you step-by-step through a complete advanced routine on the table, covering over 50 asanas. Beginning with Puja (affirmation), Dr. James demonstrates techniques in the traditional Five Attitudes/Postures: Supine, Side Lying, Prone, Abdomen and Leg Stretching, and Seated. Techniques include gentle rocking; deep stretching; striking; kneading; pinching and rolling; pulling, rotations, and rhythmic compression with thumbs, palms, elbows, forearms, knees, and feet. For a solid understanding of Thai massage, Dr. James discusses benefits and contraindications, origins of Thai massage, different styles (the Southern Royal Method, Northern Style, and Buddhai Sawan School), Ayurvedic anatomy (the primary Chakras and Sen lines), client assessment, and room set-up. Throughout, he also addresses balance vs. structural corrections; steps emulating energy flow; 10 key points for balance; working on position, attitude, relationship, and transition; and, breath, emphasis, and pressure.
To see the other videos in this set click here.
To see the other video in the Thai table set click here.
To see the other videos in the Dr. Anthony James super set click here.
Testimonial: "You provide useful, usable information. Thank you." Leona F, Canada
"I love the way the explanation is conducted. Very thorough, detailed and exquisite to view. I highly recommend this DVD to any professional practitioner that wants to improve and perfect their techniques." Alexandra S, Florida"Steps are clear and concise. Easy to view, what Dr James is doing is always completely visible. Techniques can be immediately utilized in one's own massage practice." Lynae W, Missouri"I really enjoyed this DVD. It's easy to follow and offers great techniques that you can incorporate into your massage routine. I am always researching for new modalities. Thai is a great addition to offer clients besides the normal Swedish and Deep Tissue massage." Wendy M, Florida"Worth the money, a lot of repeat from beginning table Thai. Great new techniques I incorporated immediately. I prefer videos that you learn the techniques then they provide with a routine." Lloyd Starks, USA
Series featured in Positive Health Magazine
2 Hrs. 57 Mins.