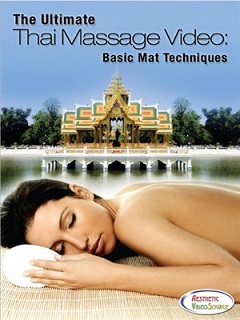 Series featured in Positive Health Magazine
The Ultimate Thai Massage Video
Advanced Mat Techniques
WATCH PREVIEW
Take Thai massage to another level with this instructional DVD. Learn more advanced therapeutic techniques to provide this beautiful, rhythmic healing modality with a step-by-step demonstration of a complete advanced routine on the mat with over 50 asanas (or therapeutic postures). Beginning with Puja (affirmation), Dr. Anthony James, CMT, DPM, ND, MDAM, SMOKH, demonstrates techniques in the traditional Five Attitudes/Postures: Supine, Side Lying, Prone, Abdomen and Leg Stretching, and Seated. Techniques include gentle rocking; deep stretching; striking; kneading; pinching and rolling; pulling, rotations, and rhythmic compression with thumbs, palms, elbows, forearms, knees, and feet. For a solid understanding of Thai massage, Dr. James discusses benefits and contraindications, origins of Thai massage, different styles (the Southern Royal Method, Northern Style, and Buddhai Sawan School), Ayurvedic anatomy (the primary Chakras and Sen lines), client assessment, and room set-up. Throughout, he also addresses balance vs. structural corrections; steps emulating energy flow; 10 key points for balance; working on position, attitude, relationship, and transition; and, breath, emphasis, and pressure.
To see the other videos in this set click here.
To see the other video in the Thai mat set click here.
To see the other videos in the Dr. Anthony James super set click here.
Testimonial: "This is really nice!!!" — Jennifer T, Virginia
"Dr. James had a very nice approach in his teachings. I especially like the simple controlled methods that I find to be very effective in treating a client. He also does a very nice job of not rushing through his routines so that it is very easy for even a novice to follow even if they do not fully understand the physics of what they are doing. As a therapist this gives me ideas of new moves to incorporate in my massages. I look forward to see more videos from Dr. James." - Vincent H, Texas"Free video in exchange for this 5-star review. I feel pretty bad giving this rating since I've never actually seen this video. If this video is anywhere near as brilliant as the marketing ploy that got me to write this review then I can hardly wait to watch. The email dated 4/28/14 reads: Email us "a link to your 5 star review, your phone number, address and the name of the FREE thank you DVD you would like. Choose one from the Aesthetic VideoSource catalog... Choose a free DVD title of your choice. We'll mail you a FREE Aesthetic VideoSource DVD. Limit one per person." I'm not the only one writing bunk reviews for the 'free' video. Education has it's price!" P. Greenly, USA"I fell in love with Thai massage during a visit to Thailand five years ago. It wasn't until I grew more in my career that I began to renew my interest in this very spiritual and healing tradition. I have taken classes, but this massage video has been my favorite way of learning (second only to another future trip to Thailand, of course!). This training course covers all of the fundamentals of Thai massage using the Mat. Above and beyond just how to master a Thai massage routine. From actual techniques to the historical significance, healing capabilities, and spiritual applications. This video covers it all . This video course is quite lengthy (172 minutes) but I truly enjoyed every minute of it. You definitely cannot capture everything in an hour or even two hour course. Each posture and technique is discussed at great length by an instructor that knows the subject matter deeply. Seeing the clients receiving the healing massage is inspiring. What Dr. James does to heal and balance the body and improving energy flow is something that I am looking forward to mastering. I would highly recommend this to any massage therapist; it is a truly is amazing and educational path." Fired up Beauty, USA
Featured in Massagemag.com, Series featured in Positive Health Magazine
2 Hrs. 56 Mins.