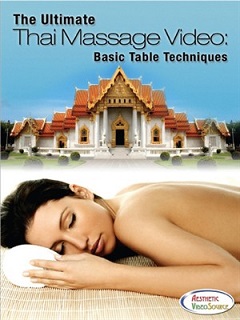 Award Winner
The Ultimate Thai Massage Video
Basic Table Techniques
WATCH PREVIEW
In this instructional DVD, learn the therapeutic techniques for providing Thai massage on the massage table. Dr. Anthony James, CMT, DPM, ND, MDAM, SMOKH, the top instructor in the United States, walks you step-by-step though a demonstration of a complete basic routine adapted for the table. Beginning with Puja (affirmation), Dr. James demonstrates techniques in the traditional Five Attitudes/Postures: Supine, Side Lying, Prone, Abdomen and Leg Stretching, and Seated. Includes over 19 basic asanas or therapeutic postures. Techniques include gentle rocking; deep stretching; striking; kneading; pinching and rolling; pulling, rotations, and rhythmic compression with thumbs, palms, elbows, forearms, knees, and feet. For a solid understanding of Thai massage, Dr. James discusses benefits and contraindications, origins of Thai massage, different styles (the Southern Royal Method, Northern Style, and Buddhai Sawan School), Ayurvedic anatomy (the primary Chakras and Sen lines), client assessment, and room set-up. Throughout, he also addresses balance vs. structural corrections; steps emulating energy flow; 10 key points for balance; working on position, attitude, relationship, and transition; and, breath, emphasis, and pressure. (1 Hr. 28 Mins.)
To see the other videos in this set click here.
To see the other video in the Thai table set click here.
To see the other videos in the Dr. Anthony James super set click here.
Testimonial: "I have ordered in the past and have been very satisfied. The customer service is #1. Keep up the good work." Juliette N, Illinois
"I loved this video, So many awesome techniques that will benefit my practice as a massage therapist! Look forward to purchasing advanced techniques!" Rene R, South Carolina"Being new to the field and a recent graduate, I found this video to be an excellent learning tool for me starting out. I plan to purchase the advanced table techniques next month to further enhance my skills." Stevie N, Tennessee"I am a massage therapist and now utilize these techniques in my clinic. DVD is very easy to follow and has excellent content." Kath A, Australia"It is very helpful in my spa. It has everything you want to know after watching it I had much improvement in what I was doing before." Jenna, USA"I'm completely satisfied with the product. It was very useful to add another modality to my curriculum. Thank you so much!" Javier Perez
Received the Bronze Telly Award; Featured in Massagemag.com, Series featured in Positive Health Magazine
1 Hr. 28 Mins.