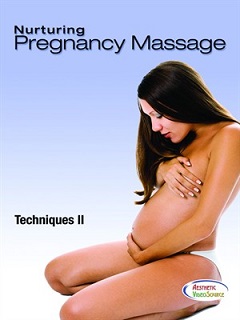 Featured in SkinInc.com
Nurturing Pregnancy Massage Techniques II
WATCH PREVIEW
Expectant moms experience unique physical and emotional changes that occur as a result of increased weight, shifting posture, and adjusting hormone levels. Massage can allow pregnant moms to unwind during this time. It can also alleviate the resulting discomfort and other pregnancy-related symptoms. In this instructional video, expert massage therapist and instructor, Meade Steadman, demonstrates step-by-step how to provide therapeutic massage techniques that focus on common complaints during pregnancy: low back pain, edema, sciatica, neck and shoulder pain, leg cramping, nausea, and breast discomfort. Meade also discusses considerations for the different trimesters, benefits and contraindications, postural analysis, bolsters, positioning and draping, and fetal development. Warning: This prenatal massage video contains full or partial nudity. View at your own discretion.
To see the other video in this set click here.
To see the other videos in the Meade Steadman super set click here.
Testimonial: "I enjoyed your skillful videos." — Yun L, New Hampshire
"Great for relief of nausea and bad leg cramps. I loved this DVD as it relieved some of the nausea that I experienced from morning sickness early on and then really helped me eliminate bad leg cramps and lower back pain in the latter stages of my pregnancy. Following on from the first volume in this series of nurturing pregnancy massage techniques, this video is more specific and suggests some really great massage techniques that target all the different problem areas. I used to wake up every night suffering from bad cramps in my lower legs until my partner and I tried out the prenatal massages in this DVD. Couldn't be happier with this product. Will be referring to it in the future if I need to!" Stacey, USA"Speedy relief! To follow the first video in this set, part 2 is fantastic! The way there are some different techniques used is excellent! When suffering from back pain and breast discomfort, the techniques shown in this DVD definitely helped, and they helped immediately! I look forward to using some more of these techniques in the future. I highly recommend this DVD!" Sabrina Winger, USA
Featured in Massagemag.com SkinInc.com, and Skin Inc. Magazine
1 Hr. 7 Mins.