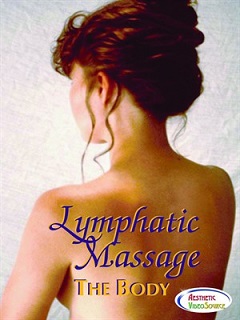 Rated 10 out of 10 in Massage Today
Lymphatic Massage
The Body
WATCH PREVIEW
Let Eva Mileski, renowned award-winning European aesthetician and licensed massage therapist, and Jennifer Bryant, LMT, guide you through this instructional demonstration of lymphatic drainage massage for the chest, abdomen, back, arms, and legs. This all-in-one massage DVD teaches you the basics about the lymphatic system and the physiological effects of massage, and shows step-by-step how to stimulate lymphatic drainage using both manual and vacuum lymphatic massage techniques. Eva and Jennifer also overview equipment care and set-up, client preparation and orientation, and benefits and contraindications. Warning: This video may contain partial nudity. View at your own discretion.
To see the other video in this set click here.
Testimonial: "I love your fabulous videos, they are high quality." — Lidia K, Germany
"As a qualified massage therapist I wanted to add another treatment to my repertoire and this instructional DVD on how to perform a lymphatic massage did not fail to deliver. The instructors are clear, detailed and very informative throughout the demonstration of lymphatic drainage massage. The video is a step-by-step guide and covers all the basics, the benefits of the treatment and all the techniques required to perform this treatment. I recommend this DVD to any massage therapist starting out or experienced and I have very satisfied clients since offering this massage." K. Moir, USA"Lymphatic Massage is very useful to me as a therapist because I like to work with the elderly, and their immune systems can be very weak. Going step-by-step through this DVD helped me help others. It's so rewarding to see the smiles of the elderly in hospitals, and to be able to benefit them further by using this training. My patients feel better, look better, and perform better when I use the magnificent lymph techniques in this DVD! Words cannot describe what this product has done for me, my career, and my patients. I highly recommend it!" YunaLuv0, USA"This DVD: Lymphatic Massage for the Body is excellent. As a qualified holistic therapist this a very informative, detailed and easy to understand DVD. This is great for anyone who is just starting out in this therapy or as a refresher for someone that is already qualified or even for someone that is interested in the subject. The demonstration is set at a good pace so you could take notes while you're watching it. I would recommend this product to anyone." R. Segers, USA
Reviewed in Dermascope, Rated 10 out of 10 in Massage Today, Reviewed in Library Journal, Featured as "Must Have How-To Treatment Video" in Skin Inc.
1 Hr. 10 Mins.