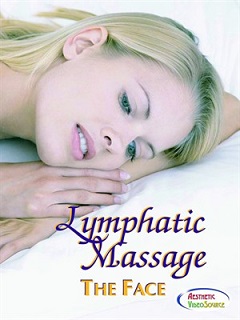 Rated 10 out of 10 in Massage Today
Lymphatic Massage
The Face
WATCH PREVIEW
Jennifer Bryant, LMT, and Eva Mileski, renowned award-winning European aesthetician and LMT, guide you through this instructional demonstration of lymphatic drainage massage for the face and neck. This all-in-one instructional DVD teaches you the basics about the lymphatic system and physiological effects of massage, and shows step-by-step how to stimulate lymphatic drainage using both manual and vacuum lymphatic massage techniques. Eva and Jennifer also discuss equipment care and set-up, client preparation and orientation, and benefits and contraindications of lymphatic drainage. Warning: This video may contain partial nudity. View at your own discretion.
To see the other video in this set click here.
Testimonial: "I am so thankful that I found your website. I will order more interesting videos to gain more knowledge about my profession. Thanks!!" — Cynthia S, Sweden
"I am a qualified massage therapist always on the look out for new treatments to offer my customers. I came across this DVD by chance and I am so happy I did. The instructors were very detailed in their demonstrations and the camera angles were very clear. The video showcased how to massage the face & neck and lymphatic& physicological effects of doing so. There are different techniques demonstrated and other areas such as preparation & benefits to the body were covered. Very happy I bought this DVD and can only say good things about it." D. Smith, UK"I have been learning a lot from this training DVD! The lymphatic facial massage has been helping so many of my clients with their sinus problems. My regular clients tell me they're having less headaches! This is so useful in the massage industry because so many of the people I work with have allergies and get headaches often. This DVD includes professional massage techniques, lymph drainage benefits, and all the little details that I need to really make the information stick. Give it a try!" YunaLuv0, USA"This DVD : Lymphatic Drainage Massage Therapy for the Face is excellent. As a qualified holistic therapist this a very informative, detailed and easy to understand DVD. This is great for anyone who is just starting out in this therapy or as a refresher for someone that is already qualified or even for someone that is interested in the subject. The demonstration is set at a good pace so you could take notes while you're watching it. I would recommend this product to anyone." R. Segers, USA"As a massage instructor, this is easily one of the best massage techniques DVDs that I have found in regard to lymphatic massage. I am constantly trying to better myself as an instructor and a massage therapist, and taking in all of the resources out there has been my mission. Six years ago I knew nothing about lymphatic massage for the face, and now I am something of an expert. This training video confirms much of the research I've done on this subject. It is an incredibly comprehensive, professional video. Like being right there taking in a massage course from an industry great without the huge price tag. Other lymph drainage courses leave a lot out, but this one covers all of the bases, the techniques, and the what and why that a lot of massage therapists think that they can skip over. I would highly recommend this to other massage therapists interested in the benefits of lymph drainage. I recommend this to my students all the time." K. Moir, USA
Rated 10 out of 10 in Massage Today; Featured as "Must Have How-To Treatment Video" in Skin Inc and in Massage Magazine's Product Focus section.
50 Mins.