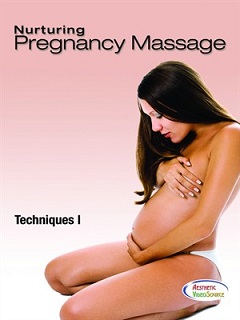 Featured in Massage Magazine & SkinInc.com
Nurturing Pregnancy Massage Techniques I
WATCH PREVIEW
Expectant moms experience unique physical and emotional changes that occur as a result of increased weight, shifting posture, and adjusting hormone levels. Massage can allow pregnant moms to unwind during this time. It can also alleviate the resulting discomfort and other pregnancy-related symptoms. In this instructional video, expert massage therapist and instructor, Meade Steadman, demonstrates step-by-step how to provide therapeutic massage techniques that focus on the special needs of the mother-to-be through the different trimesters. He demonstrates a full body massage in different positions: prone, supine, semi-reclined, and side lying. Meade also discusses benefits and contrindications, postural analysis, bolsters, positioning and draping, and fetal development. Warning: This prenatal massage video contains full or partial nudity. View at your own discretion.
To see the other video in this set click here.
To see the other videos in the Meade Steadman super set click here.
Testimonial: "I love your videos, they are one of the best. Perfectly arranged and very informative. More of them, please." Jolanthe O, Germany
"Some great techniques. Highly recommend. Found this DVD particularly useful in the final trimester of my pregnancy with my daughter. By about 24 weeks I was really finding it impossible to get a good nights sleep, mainly due to aching pains and tension in my lower back. This video has some great techniques for relieving those pains and I really noticed a difference after about 1 week of practicing these massages daily. My partner also picked up a few tips on how to help me relax and get a more comfortable sleep. Highly recommend this DVD for all the pregnant mums out there - and as we all know sleep is a bit of a luxury when baby comes so it's important to get as much of it now while you can!" Stacey, USA"Excellent Pregnancy Massage DVD. Meade is an amazing instructor. I recommend buying this DVD if you are a massage therapy instructor, a beginning student or an experienced therapist who would like to feel confident performing prenatal massage. Meade's approach to pregnancy massage is very gentle and he shows how to position the mother to be in many positions so she will be comfortable during the massage. He shows different massage tables and bolster techniques for prenatal massage and includes detailed massage sequences. The discussion about posture is very informative as well. Lots of useful information that can be only of great use to the future parents. I recommend this DVD. Very beneficial." Bojan Savich, USA"Worth every penny! I cannot say enough good things about this DVD. After watching it, I can comfortably say that the techniques used in the DVDs are fantastic. When I tried some of the techniques shown in this video, they absolutely work. The relief is enormous! I highly recommend this video for all that could use some fantastic relief throughout their pregnancy." Sabrina Winger, USA"Great DVD for learning." Robert S"Gave me a different perspective for pregnant massages. It helps with positioning and with how to support client." Alan N Gibbs
Featured in Massage Magazine & SkinInc.com
2 Hrs. 17 Mins.