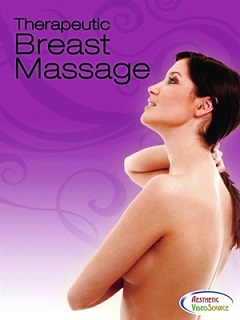 Award Winner
Therapeutic Breast Massage
In this award-winning instructional massage DVD, expert massage therapist, Meade Steadman walks you through the techniques for providing massage on the upper torso and the concerns surrounding breast massage. Massage on the breast area and underlying musculature is necessary for providing full body work on a woman, and it provides for better alignment, posture, and relaxation, as well as helps address back pain. Meade demonstrates how to provide draped and undraped massage on two models, one with natural breasts and one with augmented breasts. He also discusses breast physiology, musculature, lymphatic drainage, cancer, client preparation, client comfort, and legal considerations specific to this type of massage therapy. Warning: This video contains full or partial nudity. View at your own discretion.
Testimonial: "Therapeutic Breast Massage was excellent. Meade Steadman did an excellent job in teaching the proper techniques in a professional and tasteful manner. I think Breast Massage is a wonderful and healthy thing to do." — Theresa M, Ohio
"Covers all the bases! This video was ordered for supplementary information. It covers all the bases in a very professional way. Techniques are presented well and in a very understandable way. I highly recommend this DVD as live classes are difficult to find and even harder to participate in due to BYOB requirements." GKP, USA"Well done. An excellent DVD and recommended to anyone in the massage or medical industry for that matter, who wants to help make a difference in peoples health. The big problem is getting the women over themselves into realizing everyone isn't always after their body. I am a male but very passionate about massaging and have made a difference to a lot of people. I used these techniques and others I have learnt from other countries and my clients (those who aren't scared) have felt the benefits." Mike Koekemoer, South Africa
Received Bronze Telly Award; Received Silver Davey Award; Featured in MEDIcalSPAS
1 Hr. 48 Mins.