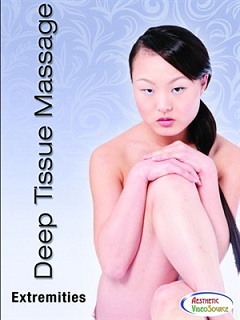 Featured in SkinInc.com
Deep Tissue Massage Therapy
Extremities
WATCH PREVIEW
Go to extremes with deep tissue massage techniques on the arms and legs. In this instructional video, expert massage therapist and instructor, Meade Steadman, demonstrates how to provide therapeutic deep tissue massage on the arms and legs with hour-plus demonstrations on the anterior and posterior. With in-depth discussions of physiology and anatomy, Meade walks you through routines for warming up, establishing client communication and trust, performing advanced massage and stretch techniques for specific areas and complaints, determining primary pain versus opposing distortion, balancing, and flushing toxins. From myofascial release to deep compression techniques, you will learn it all with this indispensable guide on deep tissue massage for the extremities. Warning: This video may contain partial nudity. View at your own discretion.
To see the other videos in this set click here.
To see the other videos in the Meade Steadman super set click here.
Testimonial: "The Body Wrap videos and massage videos are very thorough and clean. This is what I want to bring to my clients." — Jennifer G, California
"You have the best videos! It's like being right there in class." Katherine B, California "I love your videos, they are one of the best. Perfectly arranged and very informative. More of them, please." Jolanthe O, Germany "I truly love the massage videos--they've truly boosted my knowledge and have increased productivity in my practice!" John B, Arizona"A must have for massage therapists. This is the best video I have seen for specific work on the muscles. The video is great along with the explanation of the techniques. Great reference when I need to review a particular therapeutic massage technique. It surely helped in improving my techniques as a professional massage therapist. I have tried some of the techniques from the videos on a few of my returning clients and they were extremely happy with the results and how the massages helped them. Outstanding!" Bojan Savich, USA"I purchased this DVD with the intent of learning the basics of deep tissue massage. The DVD is easy to follow and well structured. Lots of information and techniques. Recommended" Darko S., USA"This is a great instructional DVD. The extremities are so important, our legs hold us up and our arms are always moving. However, I find that in my earlier years as a therapist and all the therapists I've known, the legs and arms just kind of get brushed by. There usually is no detail work, we're always just focusing on the back. The techniques I've learned from this let me do more, and in turn my clients notice. I look more educated and professional, because I am. It's also important to understand that pain can come from a place where is isn't. I've found pain coming from the legs and arms that my client didn't feel, but was directly effecting their back. I purchased all 3 of Meade Steadman's Deep Tissue Massage videos and like all of them, I'd recommend getting them as a set. I'd recommend this strongly." YunaLuv0"The owner of the spa that I work at had all of the staff take some time to review this and some other videos by this company, and this one was especially helpful. I never formally learned much on how to do massage for the extremities, and as a massage therapist, it is extremely important for me to seek out educational materials and massage techniques to better my craft and increase my knowledge base. This training video is not only well made and professionally filmed, but the instructor does a great job of walking you through the techniques. I'm not the fastest learner, but I had an easy time picking up the techniques used for applying deep tissue massage to the extremities, and it has been a pleasant addition to the treatments of my deep tissue massage clients. I have gotten great feedback on my new skills, and I'm thrilled to say that this massage DVD had a huge part in helping me cultivate my skills. This series is really helpful for anyone who wants to dive into massage therapy and develop their techniques." Jacob Williams, USA
Series featured in SkinInc.com
2 Hrs. 9 Mins.