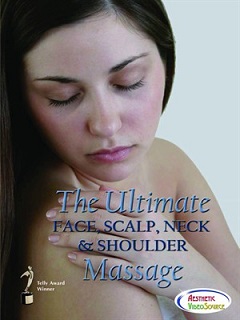 Award Winner
The Ultimate Face, Scalp, Neck & Shoulder Massage
WATCH PREVIEW
Beauty is more than skin-deep. In this award-winning massage DVD, Meade Steadman, LMT, goes deeper into the muscles to relieve tension, improve posture, and restore natural beauty from the inside out. Seeking that "softening effect", Meade demonstrates massage techniques — basic and advanced — on the head and shoulders, following the body's musculature, skeletal structure, and the vascular system. This is a must-have, comprehensive DVD for massage therapists. Throughout the DVD, Meade refers to anatomy charts to discuss the underlying foundation of massage work. In addition to the massage demonstration, he also shares some self-massage exercises for clients to maintain the benefits of their massage therapy session...until the next one.
To see the other videos in the Meade Steadman super set click here.
Testimonial: "Very impressed with your educational resources." — Ameera D, England
"What a great video!, This video was really well done. It is high quality and each technique is easy to follow. It has clear close-ups on all of the techniques as well. I really like it and recommend it!" Jesse Byerly, CA, USA"Good Resource for Students and Teachers, If you are looking for a good video to learn new massage techniques or to refresh, this video is very effective. I have shared my massage videos featuring Meade Steadman with my students and some have purchased their own copies. Meade's delivery is clear and it's easy to see exactly what he's doing. It's a good resource for students and teachers alike. Overall this is a great explanatory DVD." Bojan Savich, USA"I have reviewed many massage videos, and Aesthetic VideoSource by far has the best quality. The video shows different camera angles making it easy to see how the techniques are done. This DVD is very informative and it takes you through step by step. I got an added BONUS when I watched it and learned how to improve my client's posture with Meade's massage techniques. Well worth the money! One of the best massage videos on the market." Darko S., USA
Received Bronze Telly Award; Received 9.5 out of 10 rating in Massage Today
1 Hr. 18 Mins.