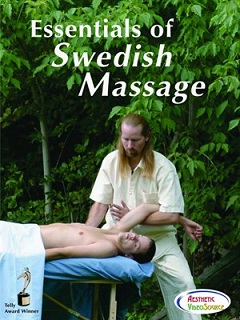 Award Winner
Essentials of Swedish Massage
In this award-winning DVD, Meade Steadman demonstrates everything from body mechanics, preparing your workspace, to the essentials of a full body massage from the head and face down to the ankles and feet. You will learn the five strokes of massage — effleurage, petrissage, friction, tapotement, and vibration — and how to perform these strokes on both men and women. Learning the steps to Swedish massage from this DVD will allow you to perform a professional and beautiful massage on all your clients while maintaining a proper balance and flow of energy within your own body. This video is the most comprehensive Swedish massage video ever produced. Welcome to your future as a professional massage therapist. Warning: This video may contain partial nudity. View at your own discretion.
Testimonial: "I truly love the massage videos--they've truly boosted my knowledge and have increased productivity in my practice!" — John B, Arizona
Received Bronze Telly; Featured in Massage & Bodywork, Les Nouvelles Esthétiques & Spa; Showcased in Skin Inc.
2 Hrs. 15 Mins.