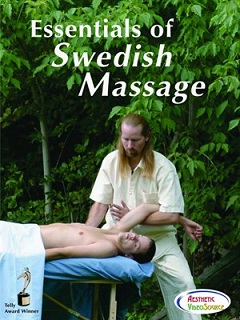 Award Winner
Essentials of Swedish Massage
In this award-winning DVD, Meade Steadman demonstrates everything from body mechanics, preparing your workspace, to the essentials of a full body massage from the head and face down to the ankles and feet. You will learn the five strokes of massage — effleurage, petrissage, friction, tapotement, and vibration — and how to perform these strokes on both men and women. Learning the steps to Swedish massage from this DVD will allow you to perform a professional and beautiful massage on all your clients while maintaining a proper balance and flow of energy within your own body. This video is the most comprehensive Swedish massage video ever produced. Welcome to your future as a professional massage therapist. Warning: This video may contain partial nudity. View at your own discretion.
To see the other videos in the Meade Steadman super set click here.
Testimonial: "I truly love the massage videos--they've truly boosted my knowledge and have increased productivity in my practice!" — John B, Arizona
"I enjoyed your skillful videos." Yun Lumbard, NH, USA"I am a medical esthetician and these are the best educational DVDs I have ever found. I will definitely purchase more videos from you in the future. Thank you for your quality videos." Donna Kashian, Woburn, MA."Wow, This video is absolutely great! Many of these instructional videos are down right boring. They usually have some mono-tone instructor in a room showing the techniques. This video is different. The instructor is excited about what he's doing and you can tell from watching the video. Also, a lot of it is filmed outside so it captures the tranquility of what the massage is all about. I would have to say that it's one of the most unique instructional videos I have ever seen and I have seen a lot of them! All in all, a great video and a great price and would recommend it to anyone, advanced or beginner, who wants to learn more about Swedish massage!" Kaylee Barnes, NY, USA"Excellent video, I was very pleased with this DVD. Meade Steadman demonstrates numerous techniques using male and female models. He covers the entire body thoroughly and offers practical advice throughout the video. Unlike other videos, Steadman both performs the massage and explains the techniques at the same time. Other videos use voice-over narration to explain what you're seeing, which is not nearly as enjoyable or as effective." Lorne L Carignan, MI, USA"Very good tape, I learned more from this tape than any other tapes, books, and school combined." S. Kim, NY, USA"Students and Instructors Love this!, I have viewed this video many times with my massage therapy students and I learn something new each and every time. I'm happy that quality videos are being put out for all of us to learn from!" Elizabeth M Bryan, USA"Great massage technique video, This video gives many techniques for massage. If you're looking for additional massage techniques for forearms, knuckles & elbows this is great!" Kara A Dorman, USA"Excellent instructional DVD!!, I have viewed this dvd several times, each time I seem to notice something new previously missed. Mead Steadman is very professional showing step by step techniques in a well known modality. I learned the basics of this in school but he seems to shed a new light on this age old modality making it more interesting than it was when taught in school. I have also bought his chair massage video and love it too. This is the video to buy if you want the best Swedish massage instructions on video." Stevie Nash, USA"Excellent, This is a wonderful dvd for both the beginner and seasoned massage therapist. Great for beginners to see techniques they learned in class and to learn new ones. Equally great for seasoned massage therapists who want to review techniques.....there are so many wonderful and relaxing massage techniques to use/remember during a session! Meade is a fantastic instructor." Lori S, USA"Excellent massage video, I bought this video to help review massage techniques that I may not have completely caught in massage school. Although I didn't get the specific technique I had interest in, I think this video does an excellent job showing massage techniques and giving information about giving massage. It even covered grounding and massage room set up." William Jacobs, USA"Excellent overview of Swedish massage!, Incredibly thorough introduction to, and instruction of, Swedish massage. Well thought-out and informative, a "must" for anyone interested in the most popular form of body work there is. Well worth the money." R Kim, CA, USA
Received Bronze Telly; Featured in Massage & Bodywork, Les Nouvelles Esthétiques & Spa; Showcased in Skin Inc.
2 Hrs. 15 Mins.