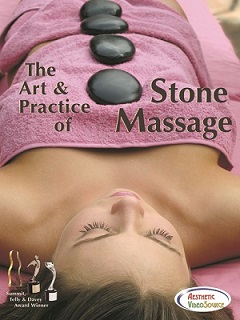 Award Winner
The Art & Practice of Stone Massage
WATCH PREVIEW
Licensed massage therapist, Meade Steadman, illustrates how to incorporate the use of hot and cold stones in full-body massage. In this comprehensive instructional massage DVD, Meade, who is also an instructor, demonstrates how to perform the strokes (petrissage, effleurage, and edging) on the different muscle groups from head to toe, while explaining the physiological effects of thermal and cryo stone therapy, which include stimulating circulation, relaxing musculature, and reducing inflammation. The use of stones for healing dates back thousands of years. In this beautifully filmed instructional video on massage therapy, Meade discusses the history of stone massage, selection of stones, placement of Chakra stones, and preparatory grounding for focus, as well as equipment, client comfort levels, and contraindications/precautions for conditions such as heart problems and pregnancy. Warning: This video may contain partial nudity. View at your own discretion.
To see the other videos in the Meade Steadman super set click here.
Testimonial: "Awesome DVD's! This is my second order, Thank you. I think your videos are GREAT and I'm a fully qualified beauty therapist." — Kelly P, Australia
"Great Video. This video was so helpful! As with the other videos I've seen from Aesthetic VideoSource, it's really easy to follow and it covers a lot of information. The video was a little more than I wanted to spend, but I took the chance and I have to say that I defiantly got my money's worth. If you want to learn more about Stone Massage, this is a really great video for just that!" Holly Beckman, NY, USA"Good basics, take a class also if you are trying to learn how to do stone massage. I took Aromatherapy hot stones massage after I watched and practice the DVD." Svetlana Shubina, OR, USA"Lots of techniques for massage. I'm now educated in the proper way of incorporating hot and cold stones with massage and have another technique to add to my practice. I recommend this video to anyone interested in using stones in their massage therapy practice. Meade goes though a complete full body massage using hot and cold stones. He also demonstrates a facial massage using cold stones and shows how to place chakra stones along the meridians. Tons of great tips for finding stones, heating and cooling stones, incorporating stones into a full body massage, etc. This DVD is superb. I am now able to do stone massage with confidence! I have seen other stone massage videos and like this one the best. Probably one of the best educational DVDs I have ever seen." Bojan Savich, USA"Is perfect..." Daniel Odei, USA"Great vid! … It was very informative and beneficial to me being a newly established massage therapist! No matter your learning style or purpose everyone can gain and enjoy the work and skill provided here within this DVD." Amazon Customer
Received Bronze Telly Award; Received Bronze Summit Award; Received Silver Davey Award; Featured in Spa Management; Received 10 out of 10 rating in Massage Today; Showcased in Skin Inc.
1 Hr. 44 Mins.