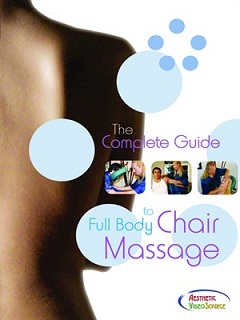 The Complete Guide to Full Body Chair Massage
In this comprehensive DVD, learn from expert massage therapist, Meade Steadman, the in's and out's of full body chair massage therapy: techniques, equipment, and how to generate business. With detailed discussions of musculature, Meade demonstrates a general full body massage from head to toe, as well as techniques for addressing specific client complaints: headaches, kinked necks, aching shoulders and back, and carpal tunnel. Massage is demonstrated on male and female models. Meade also touches on different massage chairs, tools and setup, dealing with business attire, and tips for marketing and building your professional practice. Contraindications are included. This thorough guide covers it all.
Testimonial: "You provide useful, usable information. Thank you." — Leona F, Canada
"Very Enlightening!, Enjoyed viewing this DVD several times. Meade exposes us to a variety of new ideas to enhance a full body chair massage. He covers common client complaints, as well as anatomical muscle charting and even reveals a few of his own trade secrets. Will definitely keep this one in my library and share it with other LMT's." Rita H, NC, USA"Being new to the industry, I bought this to help me build my techniques. I thought it was very beneficial and would recommend this DVD to anyone new in the field." Cindy L Stoudt, PA, USA"One of the best, I've seen all of the chair massage videos out there, and this is one of the best! The instructor clearly explaines each technique that he uses. I've seen other videos with Meade Steademan (Essentials of Swedish Massage) and they are all great videos. I recommend it to anyone wanting to learn chair massage or just to brush up on what they already know. It was well worth the money!" Jesse Byerly, CA, USA"Love this video. I love the way Meade Steadman demonstrates massage techniques. He actually does a full body massage in the chair & uses his knees, too." M&M, USA"Just what I was looking for., also includes using your knees and more on the client." Yang Cheng Fu, PA, USA
Featured in Massage Magazine
2 Hrs. 17 Mins.