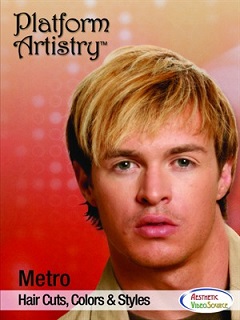 Award Winner
Platform Artistry™
Metro Hair Cuts, Colors & Styles
WATCH PREVIEW
In this training video, Randy Topham demonstrates four short hair cuts for your edgier, fashion-forward male clients: A shagged-out top with tight sides for a more classic yet casual cut, thinned and texturized by razor cutting twisted lengths of hair...A faux-hawk with a twist and tight cropped sides without lines...An asymmetrical, glam rock inspiration dry cut with shears...And a razor cut for a taper-edged, spiked feel, with long bangs and length all over. Randy also shows four innovative coloring techniques (foil coloring ponytailed segments, paneling, creating a shine line, and a 3-color merge) and styling options to illustrate the versatility of the cuts. Includes tips on men's coloring, pricing, and marketing to attract male clientele.
To see the other videos in this set click here.
To see the other videos in the super set click here.
Testimonial: "Interested in expanding business through expanding knowledge, thank you for the services you offer." — Kay B, Georgia
"Gained customers by using the techniques from the DVD. I am a barber, and I know that metro cuts are tough to do, yet they are trending now, so a lot of people want to get that look. The film was very straightforward and did an amazing job at explaining the techniques they use. Upon watching this film I feel much more confident about metro cuts. It definitely worth the money, because I was able to gain customers who were satisfied with their cuts. Get this DVD while you can." Kujmandosz, USA"Another fantastic video featuring Randy Topham! I just love his instructing style. The owner of my salon has these videos and let me borrow them to brush up on some of my skills. This has been my favorite hair cutting dvd that I've watched to date, and over the course of my cosmetology training, I watched a bunch. The particular styles showcased and the hair cutting techniques that are fun, current, and edgy. I live in a metro area where lots of men come in looking for funky, non-traditional cuts, and I've quickly become the go-to stylist for these clients. The coloring and cutting techniques shown are interesting and have helped me to achieve better, more striking looks and the instruction from Randy is exceptional. Well filmed, and well instructed. This dvd has several full length client sessions from start to finish, and in each session, there are many different cut and color techniques that I hadn't previously been taught during my training. I highly recommend this to any stylist that has a lot of edgier clients looking for "different" styles, cut, and color who demand a high-end approach." Lilly B, USA"Having seen many of Randy Tophams demonstrations before I was really looking forward to this DVD about edgier styles for shorter hair. I was not disappointed in the slightest as Randy is very informative and detailed in his demonstrations. He covers four coloring techniques and lots of different styling options. Without hesitation I cannot recommend this DVD enough!" S Mac, USA
Received Bronze Telly Award
1 Hr. 45 Mins.