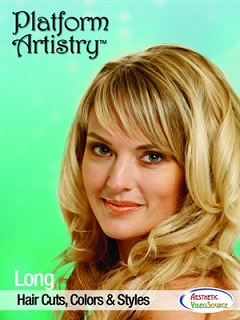 Award Winner
Platform Artistry™
Long Hair Cuts, Colors & Styles
For your long-haired clients, Randy Topham demonstrates innovative techniques for cutting, coloring, and styling. This training video, features two models, each with a cut, color, and two styles to illustrate their versatility. Learn how to create volume without losing length with shorter, choppy layers along the top and layers around the face; touch up highlights, create a dark base for depth, and alternate colors, all with a freehand balayage technique against a foil board; quick style with a blow dry for a sleek, casual look; and, curl with a flat iron and back comb to create a sexy look that's all glamour. With the second model, learn how to remove weight throughout in pie-shaped sections by pulling hair up and sliding shears out to the ends; weave in a high lift tint on virgin hair with a freehand technique; scrunch naturally wavy hair and blow dry for a loose, spontaneous look; and, create a stylish "dread lock" look sporting separated curls with jutty ends.
Testimonial: "The videos are very educational and interesting." — Ruth C, Washington
Received Bronze Telly Award
1 Hr. 52 Mins.