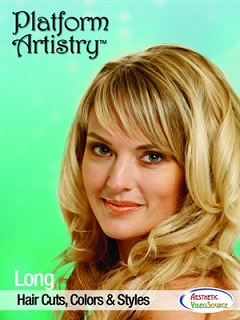 Award Winner
Platform Artistry™
Long Hair Cuts, Colors & Styles
WATCH PREVIEW
For your long-haired clients, Randy Topham demonstrates innovative techniques for cutting, coloring, and styling. This training video, features two models, each with a cut, color, and two styles to illustrate their versatility. Learn how to create volume without losing length with shorter, choppy layers along the top and layers around the face; touch up highlights, create a dark base for depth, and alternate colors, all with a freehand balayage technique against a foil board; quick style with a blow dry for a sleek, casual look; and, curl with a flat iron and back comb to create a sexy look that's all glamour. With the second model, learn how to remove weight throughout in pie-shaped sections by pulling hair up and sliding shears out to the ends; weave in a high lift tint on virgin hair with a freehand technique; scrunch naturally wavy hair and blow dry for a loose, spontaneous look; and, create a stylish "dread lock" look sporting separated curls with jutty ends.
To see the other videos in this set click here.
To see the other videos in the super set click here.
Testimonial: "The videos are very educational and interesting." — Ruth C, Washington
"As a hairdresser instructor myself, I found the video very informative and helpful for my students. Randy is clearly a very accomplished salon artist and he shares his tips and tricks in very clear demonstrations during the video. It is a must watch for anyone looking to get an edge in the hairdressing industry." Kindler, USA
Received Bronze Telly Award
1 Hr. 52 Mins.