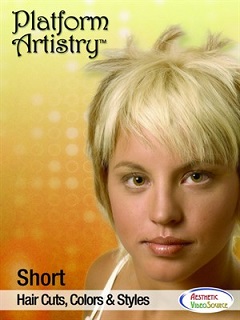 Award Winner
Platform Artistry™
Short Hair Cuts, Colors & Styles
WATCH PREVIEW
In this training video, Randy Topham demonstrates two short hair cuts using clippers and shears, two hair color techniques, and two styles for each cut to illustrate their versatility. In this training DVD, learn to create a variation on a sharp short bob by framing the sides with a sloping fringe and long bangs with shears; deposit color, leaving natural hair color as highlighter with a protective clear color for a soft blend from root to tip; then style for a sleek forward flair or for an elegant evening with loose, creatively shaped curls. And learn how to feather-edge with a razor for a disconnected, funky yet chic style; pop the blonde with panels of shadow with color blocking; and, style for a spontaneous look with scrunching or for a luxurious sleek with sculpted touches created with fibrous gum.
To see the other videos in this set click here.
To see the other videos in the super set click here.
Testimonial: "I have ordered in the past and have been very satisfied. The customer service is #1. Keep up the good work." — Juliette N, Illinois
"Training staff on short cuts in our salon has never been easier! Two easy to follow short cuts showing some great technique for both hair cutting and hair colouring. Some people aren't as competent when it comes to performing short hair cuts and this DVD makes it looks so easy. Particularly love the part where it demonstrates the colour blocking technique and also the use of the razor to achieve feather edges for a soft and chic finish. Love it and will be recommending this to my friends!" James, New Zealand"As a professional hairstylist I attended an event in Dallas where saw the expert platform artist Randy Topham who demonstrated hair cutting and coloring techniques. When I discovered there was a DVD with his amazing work I had to buy it. Randy demonstrates two short hair cuts and two hair color techniques and he is extremely detailed & informative. I would recommend this DVD to any hairstylist as you will learn so much and in turn it will increase your revenues and send your customers home happier." Donna Causer, UK"Randy Topham is a master. Learning from him in this video series has been incredibly helpful to my development as a stylist. Learning how to cut hair for clients that want shorter cuts that are versatile and easy to style has been a bit of a challenge, and this video has been a great help. The hair cutting techniques used in this video have helped me to achieve better results and I've also picked up on some things that have helped me create cuts that can be styled in a variety of ways; something I thought was reserved for longer cuts. The cut and color techniques are different from many of the things that I personally learned during my cosmetology training. The coloring techniques especially were really intriguing and keep my clients looking better between visits. If you're a newer stylist or just want a new perspective, I highly recommend this video." Lilly B, USA
Received Bronze Telly Award
1 Hr. 44 Mins.