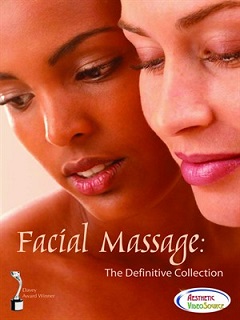 Award Winner
Facial Massage
The Definitive Collection
WATCH PREVIEW
Aesthetic VideoSource presents the definitive collection DVD of six facial massages featured in our instructional facial and massage DVDs. Four renowned experts bring their own distinctive facial massages to their treatments, including European facials, stone massage, chair massage, and lymphatic drainage massage. CIDESCO diplomat, Rita Page, demonstrates a detailed facial cleansing massage. Meade Steadman, LMT, demonstrates three facial massages: one incorporating hot and cold stones to help stimulate circulation and relax musculature, one showing how to restore natural beauty from the inside-out by following the musculature and vascular system, and a facial massage in the chair. Eva Mileski, aesthetician and LMT, walks you through an extensive facial massage that is part of her facials. Jennifer Bryant, LMT, instructs how to stimulate lymphatic drainage on the face using massage techniques.
Testimonial: "Let me just say this up front, I love Aesthetic VideoSource. I've seen many of their videos, I recommend them on my esthetician sites, and can tell you they are of superior quality. When I was in esthetic school, I got the opportunity to watch many of their videos. I've been trained to do facial massage, and am licensed as a skin care specialist. The videos are top notch, professionally done, and show you hands on techniques. They are the 'go to' source in the industry due to the quality of their products." — Deb
"Very Helpful, this is a very handy video for the interested layman or the professional. The techniques demonstrated in the DVD are time-tested and proven. And having them demonstrated on video is really helpful if you want to learn a new techniques in facial massage or if you just want to brush up and see how some other professionals do it. Professionals need to take their craft seriously for the good of themselves and their customers so this DVD is like a continuing education course but you can go back to it again and again. Very happy I found this video." Mark S, USA"Thank you for making this DVD. It helped to polish my skills. Look forward to using all the information provided. Thanks." E Pruitt, USA"A must for the library of every licensed massage therapist that wants to learn some different facial massage strokes. It has certainly helped me. I love it because it is detailed and has great demonstrations of many different types of massage for the face, and is full of necessary information. Basically, If you are a massage therapist or a massage therapy student I would highly recommend purchasing this DVD. Four different massage therapists share their different perspectives and techniques for facial massage. I have improved my techniques by watching this DVD. It has also motivated me to do my job even better. Well worth the price." Bojan Savich, USA"The video gives four different Facial Massages that shows exactly how each Facial is done. I watched the video and thought it was a very interesting video on Facials. I have never had a Facial done on me before. It has never crossed my mind to have one done. I was curious on how the professionals done them, so I got this video on them. I enjoyed watching it. I might have to actually go get one done here soon. Item was described correctly, and I would recommend product!!!" Vicki L Taylor
Received Silver Davey Award; Featured "Unique and Wonderful" in Healing Arts Guide, "A Definite Must-Have", Spa Management, Featured in Massage Magazine
1 Hr. 23 Mins.