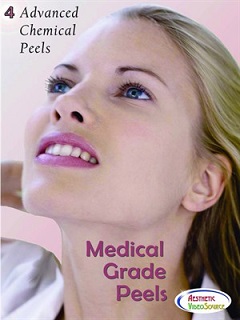 Award Winner
Advanced Chemical Peels
Vol. 4, Medical Grade Peels
WATCH PREVIEW
Vol. 4, Medical Grade Peels provides step-by-step instruction on how to apply and remove medium-depth TCA (Trichloroacetic acid) and physician-strength Glycolic Acid Peels in a medical spa environment. In this instructional DVD, Malinda McHenry helps you properly assess your client's peel requests and choose the appropriate peel, based on the client's Fitzpatrick type (skin's ability to produce pigment), Glogau classification (skin elasticity), and desired results. Malinda also walks aestheticians through basic chemistry regarding pH and percentages of the peeling agents, products and supplies, benefits and contraindications, skin analysis, timing based on erythema and client feedback, neutralizing, recommended treatment series, expected results, and post-treatment care.
To see the other videos in this set click here.
Testimonial: "I enjoyed the DVD's. They are very educational and informative." — Virginia S, New Jersey
"Great DVD. Very informative. Worth the money." S Armstrong, Naples, Italy"The whole DVD set is just amazing. This video is about advanced medical chemical peels but I warmly recommend buying the four volumes in this set as there is great amount of techniques, information and advice that you will learn from these instructional videos. No matter if you want to learn about Glycolic Acid, Glycolic Peel, Chemical peels or chemical peel this course is so thorough and detailed that you will definitely feel knowledgeable after watching it." Bojan Savich, USA"This is the fourth DVD in how to deliver a chemical peel. I recommend buying the four volumes in this set as there is so much to learn from these instructional videos. There is a high level of professionalism in filming these dvd's. It will teach any skin care specialist how to assess a client's skin type and elasticity. I cannot rate this course on chemical peels highly enough. I feel more equipped to now assess my client's needs." K. Moir"I always find that continuing my esthetician training and getting to view lots of different instruction is the best way to ensure that each and every client gets the most out of their treatment. I am a big fan of this DVD series, and when I saw that they had one for advanced chemical peels & medical peels, I knew that it would be the perfect way to get a reliable, detailed refresher course that I could easily reference later." Muagirl88, USA
Received Bronze Telly Award; Series featured in Les Nouvelles Esthétiques & Spa and MEDIcalSPAS
1 Hr. 7 Mins.