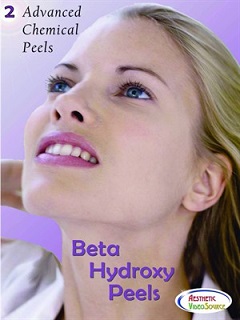 Award Winner
Advanced Chemical Peels
Vol. 2, Beta Hydroxy Peels
WATCH PREVIEW
Vol. 2, Beta Hydroxy Peels provides step-by-step instruction on how to apply and remove Salicylic Acid (ideal for treating acne) and Jessner's Peels (applied under a Wood's lamp) for the face. In this instructional DVD, Malinda McHenry helps you properly assess your client's peel requests and choose the appropriate peel, based on the client's Fitzpatrick type (skin's ability to produce pigment), Glogau classification (skin elasticity), and desired results. Malinda also walks aestheticians through basic chemistry regarding pH and percentages of the peeling agents, products and supplies, benefits and contraindications, skin analysis, timing based on erythema and client feedback, neutralizing, recommended treatment series, expected results, and post-treatment care. She also shows how to deal with open lesions and permanent makeup.
To see the other videos in this set click here.
Testimonial: "The four Chemical Peels DVD set is awesome! I'm a medical esthetician and these are the best educational DVDs I've ever found. I'll definitely purchase more videos from you in the future. Thank you for your quality videos." — Donna K, Massachusetts
"I really loved this series. I bought the Advanced Chemical Peels volume 1 and then volume 2. They were so informative and detailed. I took notes while watching them and I would recommend them highly." - Esther M, Tennessee"This DVD done exactly at advertised. Would recommend to anyone it was clear and easy to understand. I loved it!!" Judy L Baldwin,USA"In my training at the spa that I work at, we do many different types of peels, but I never really learned that much about the many different types of peels. My manager encourages employees to further their esthetician education, and to supplement our knowledge, she shared this series of training DVDs with us. This particular DVD was especially helpful. I find acne prone skin to be quite challenging, and learning about Beta Hydroxy Peels has served me quite well. Salicylic acid peels can be life changing for those acne prone skin, and learning the ins and outs to achieving the best result has been wonderful. I feel as though this guide is very comprehensive and detailed. I now know everything that I feel like I need to know. This is perfect for any esthetician who wants to continue to expand their skills." Fired up Beauty, USA
Received Silver Davey Award; Series featured in Medical Spas, & "Industry Resource" in Dermascope
53 Mins.