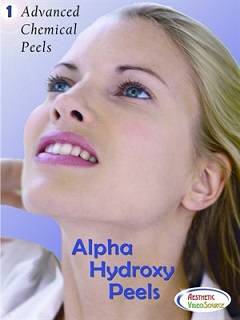 Award Winner
Advanced Chemical Peels
Vol. 1, Alpha Hydroxy Peels
WATCH PREVIEW
Short of surgery, chemical peels are all the rage for delivering dramatic results. This instructional DVD — Vol. 1, Alpha Hydroxy Peels — provides step-by-step instruction on how to apply and remove Lactic Acid and Glycolic Acid Peels for the face. Malinda McHenry, an aesthetician and instructor, helps you properly assess your client's peel requests and choose the appropriate peel, based on the client's Fitzpatrick type (skin's ability to produce pigment), Glogau classification (skin elasticity), and desired results. Malinda also walks aestheticians through basic chemistry regarding pH and percentages of the peeling agents, products and supplies, benefits and contraindications, skin analysis, timing based on erythema and client feedback, neutralizing, recommended treatment series, expected results, and post-treatment care. She also discusses working with first-time clients and sensitive skin.
To see the other videos in this set click here.
Testimonial: "Very impressed with your educational resources." — Ameera D, England
"Better than a Classroom. This DVD series is more informative and instructive than any classroom I've ever attended. Unfortunately I attended a terrible school and received little to no actual instruction. Thanks to Malinda I now understand the science and application of Alpha peels, Beta peels, and how to use them in conjunction with Microdermabrasion to achieve maximum, safe results. I also learned other gems of information such as the proper application of sunscreen...yes, there is a better way to apply it than just rubbing it on! There's no substitute for actually watching a live peel in action with an expert discussing the technique step by step. Yes, the series is a bit pricey, but in this case you get what you pay for. Malinda's years of experience and in-depth knowledge shine through. You will be more than compensated for your time and money." M Knigton, USA"Recommended, this is a very good DVD if you're new or intermitted skill level, well presented and lot of good information." S Kim, NY, USA"Advanced Chemical Peels, Vol.1 is comprehensive and a great tool to review before offering chemical peel services to your clients. I thought that I was pretty much proficient in chemical peels since I perform them on my clientele on a regular basis, but this video helped me to perform an even better service. I can't speak more highly of it! This is a must have for any working professional esthetician looking to stay up to date in this competitive business." Tanisha, USA"The decision of buying this DVD and learning the techniques contained here was one of the best I made in my professional career. This is surely better than paying trainings on which you can't learn that much. The dvd contains in-depth instructions about how to apply advanced chemical peels, and now I can offer those services in my beauty salon. Many thanks!" Bo Savich, USA"I've always been especially interested in learning the science of the skin and how to flawlessly provide chemical peels and similar services to my clients, and my esthetician training did not provide me with all of the information that I hoped for. With this DVD, I learned all of the necessary information about assesing the skintypes of my clients and best understanding their skincare needs, even when they aren't the best at communicating these needs. In this edition, the instructional video was focused on alpha hydroxy peels. I am glad that they divided these DVDs up, because there is so much to know about these topics. I feel that I learned a great deal from this." Stacey, USA
Received Silver Davey Award; Series featured in Dermascope Magazine's "Worth a Look", Les Nouvelles Esthétiques & Spa, & Series featured in MEDIcalSPAS
55 Mins.