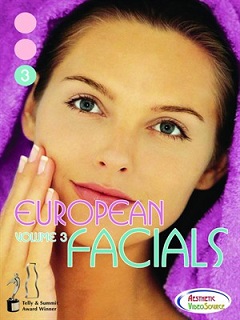 Award Winner
European Facials, Vol. 3
In this instructional video, Award-winning CIDESCO diplomat, Rita Page, demonstrates the steps of a thorough European facial. Part of a comprehensive three-part series, Vol. 3 continues the facial being demonstrated in Vol. 1 and 2. Rita finishes the facial with a mask customized for different parts of the face (T-zone, eyes, cheeks, and décolleté), hot and cold compresses, and protective facial creams. While products are penetrating, Rita demonstrates how to perform a scalp massage, hand and arm treatment, and foot and lower leg treatment. Rita completes the facial with a post-treatment client consultation. In a special feature, Rita demonstrates how to make her trademark cotton pads.
Testimonial: "Love the facial sets." — Donna B, New Jersey
Received Silver Summit Award; Received Bronze Telly Award; Featured in Dermascope's "Worth a Look" and Les Nouvelles Esthétiques & Spa
1 Hr. 51 Mins.