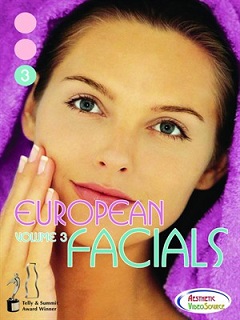 Award Winner
European Facials, Vol. 3
In this instructional video, Award-winning CIDESCO diplomat, Rita Page, demonstrates the steps of a thorough European facial. Part of a comprehensive three-part series, Vol. 3 continues the facial being demonstrated in Vol. 1 and 2. Rita finishes the facial with a mask customized for different parts of the face (T-zone, eyes, cheeks, and décolleté), hot and cold compresses, and protective facial creams. While products are penetrating, Rita demonstrates how to perform a scalp massage, hand and arm treatment, and foot and lower leg treatment. Rita completes the facial with a post-treatment client consultation. In a special feature, Rita demonstrates how to make her trademark cotton pads.
To see the other videos in this set click here.
To see the other videos in the super set click here.
Testimonial: "Love the facial sets." — Donna B, New Jersey
"Better than school. If you are an esthetician or want to become one, this video is a must have. This is one of three in the series and each of the videos is excellent. I would recommend all three. Well worth the every penny!" Holly Beckman, NY, USA"This DVD is almost or better in some case than real facial classes I took, recommended highly! I don't write reviews much, but this facial series Vol. 1 through Vol. 3 is a must." S. Kim, NY, USA"Great customer service! No flack given at all. Perfect Company! Love Rita Page. Wish she had a website for her spa though. Can't find it via Google. Quality DVD instruction from Ms. Page, great tips. I bought all her DVDs!" Lee J, TX, USA
Received Silver Summit Award; Received Bronze Telly Award; Featured in Dermascope's "Worth a Look" and Les Nouvelles Esthétiques & Spa
1 Hr. 51 Mins.