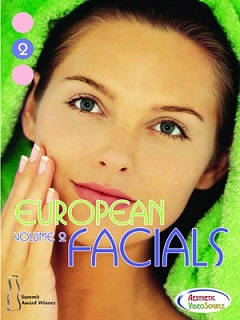 Award Winner
European Facials, Vol. 2
WATCH PREVIEW
In this instructional video, Award-winning CIDESCO diplomat, Rita Page, demonstrates the steps of a thorough European facial. Part of a comprehensive three-part series, Vol. 2 continues the facial begun in Vol. 1. Rita delves into exfoliation (with an enzyme); desincrustation; an extensive essential oil massage on the neck, shoulder, décolleté, and upper arms; extractions (with cotton and extractor); treatment ampoule and cream application; and a product-penetrating facial massage. Massage, an important component of a European facial, is used for application of product as well as a luxurious treatment that completes the spa experience.
To see the other videos in this set click here.
To see the other videos in the super set click here.
Testimonial: "You provide useful, usable information. Thank you." — Leona F, Canada
"I recently purchased the three part series (volume 1,2 and 3) of the European facials as continuing education. I was very impressed with how thorough and informative These videos were. Rita Page took her time explaining and demonstrated great step by step techniques. I learned a lot and I would definitely recommend these videos to all new estheticians! They've been a great help to me." – Annmarie M, Florida"Simply the best facial DVD I have ever seen, but you have to see Vol. 1 through Vol. 3, almost 5 hours." S. Kim, NY, USA"Great DVD series. I highly recommend. Rita Page walks you through every step. Very professional!" Julieth Tenorio, USA"Learning the basics of European facials in the first volume of this DVD was very educational, so I decided to check out the second educational training video in this series. I found volume 2 to be just as helpful as volume 1. This video covers the exfoliation techniques typical of a traditional European Massage procedure using enzymes, as well as many of the facial and neck massage techniques that expand to the shoulders, decollete, and arms. Learning these massage methods was a great benefit to me (well, mostly to my clients!) in providing an authentic European massage that is enjoyable and accurate in terms of what it is supposed to be. Getting the right techniques down was really important to me. This company really produces some of the best training DVDs out there. I feel as though they really thought about how to explain things in the most educational and helpful way. I've learned a lot from these videos that was left out in my cosmetology training. I would definitely recommend this series to anyone looking to build a solid knowledge base." Diana Diamond65, USA
Received Silver Summit Award; Featured in Les Nouvelles Esthétiques & Spa
1 Hr. 36 Mins.