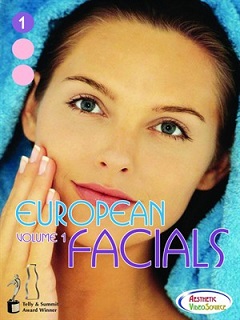 Award Winner
European Facials, Vol. 1
WATCH PREVIEW
In this instructional video, Award-winning CIDESCO diplomat, Rita Page, demonstrates the steps of a thorough European facial with detailed massage techniques and a minimal amount of equipment. Part of an award-winning comprehensive three-part series, Vol. 1 includes discussion of facial bed set-up, equipment (stool, steamer, and other tools of the trade), and professionalism. Rita then begins the facial, starting with a client consultation, skin analysis, and an extensive cleansing massage on the face, neck, and décolleté. Massage, an important component of a European facial, is used for application of product as well as a luxurious treatment that completes the spa experience.
To see the other videos in this set click here.
To see the other videos in the super set click here.
Testimonial: "As a student I found the European Facials video quite helpful and am looking forward to purchasing other videos for other esthetic subjects." — Shamarie H, Washington
"Very Helpful! I really enjoyed this video, and the way Rita slows her steps down to show you exactly what she is doing. I do wish the videos included Rita doing the whole facial in real time at her normal speed." Ashley M, VA, USA"This DVD contained good, basic information on performing a facial. The portion of the DVD most valuable to me is Ms. Page's step-by-step review of a quick, stimulating facial massage. I plan to review this section of the DVD often in order to learn this massage sequence, which is quite a bit more lively than the facial massage sequence I have learned in school." Love2B, VA, USA"Absolutely Fantastic! After watching this video, I have nothing, but good thoughts! This video shows you step-by-step how to do European Facials. My students have been using this video as a viewing experience for at-home practice. The students who have truly taken these techniques to heart, and put their mind to this style, have succeeded significantly in my class. I absolutely recommend this DVD for all! I will be using these videos in the future for many more classes!" Sabrina Winger, USA"Great customer service. Wow, what a concept! This was the first DVD I saw for facials and it was discussed in a way that wasn't too over my head as a beginning facialist student. This DVD was the reason I bought all of Rita Page's other DVDs because I felt this woman could describe things in an orderly and easily understood fashion." Lee, TX, USA "The European Facials DVD is excellent. As a therapist myself I am always on the lookout for something new or something that has different techniques from my own and also something that my clients would like. The demonstrations are set at an excellent pace which is ideal for taking notes! This DVD has given me inspiration and ideas for my own business. I would recommend this product to anyone." R. Segers, USA"The art of European facials is something that a lot of aestheticians take for granted. There are so many advanced techniques that spa professionals know little about, and in my experience, many professionals don't really do authentic European facials (myself included) and sort of infuse some European facial techniques into their facials. This aesthetician training DVD helped me to learn a lot. From proper skin care techniques to the best European facial massage techniques, Rita Page is really thorough and covers all of the basics with great detail that my instructor didn't really go into during cosmetology school. The video is easy to understand and Rita takes you step by step on all of the facial treatments she performs during a basic European massage. I found her facial massage demonstrations to be really helpful and enjoyable to watch." Jacob Williams, USA"The facial massage techniques demonstrated in this video are amazing, and totally something different from all the similar videos. As I have used most of the techniques presented here on my customers, I can guarantee that this DVD is high quality and that you can learn a lot from it. The presenter has great charisma and explains with details and with simple instructions. You will not be bored and you will learn a lot!" Bo Savich, USA"Great DVD series. I got all 3. It helped me improve my aesthetics skills." Julieth Tenorio, USA"Always room to learn. This was a great video. School teaches you the basics, this had a lot of good information. Rita Page gave great instruction step by step. Can't wait to watch the other two in the series. Thanks again." Deborah G Halberstadt"Loved it!!! I really enjoyed your DVD, very informative. Would highly recommend it to everyone." Isabel L
Received Silver Summit Award; Received Bronze Telly Award; Featured in Dermascope "Worth A Look"; Received 9.5 out of 10 rating in Massage Today; Featured in Les Nouvelles Esthétiques & Spa
1 Hr. 34 Mins.