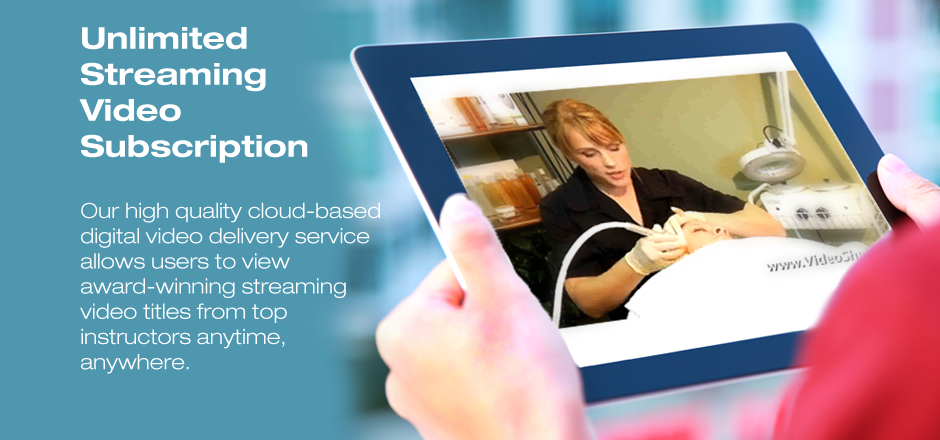 Streaming Video Subscriptions
An essential educational tool and resource  for any  academic institution's cosmetology or massage curriculum,  our streaming video subscription collections offer convenient one-stop purchasing and flexible subscription options for librarians, faculty, educators and specialized departments. These comprehensive collections and vibrant selections of titles provide training for aesthetics, cosmetology, massage therapy, medical spa, skin care and nail technology programs.
Available Collections:
For ordering, pricing and other information call 1-801-282-2490 or 1-800-414-2434 (US and Canada) or email sales@videoshelf.com
Benefits:
A comprehensive, high quality video subscription providing unlimited access to curriculum-focused videos
Reinforce in-class lectures
Encourage discussions on educational topics
Include video into course management systems such as Blackboard, Moodle, and Canvas
IP and proxy authentication
Students and instructors view videos anywhere anytime
All videos are iPad, PC, Mac, Android, and mobile friendly
Public viewing rights included with the subscription
Freedom from inventory hassles and damaged DVDs
 Reviews & Testimonials
"I love your videos, they're very helpful and I use them all of the time. I think that every skin care therapist, even though they have experience, can benefit from these videos since there is so much useful information. I really admire Aesthetic VideoSource for their business." Florita S, Hawthorn Woods, IL.
"Aesthetic VideoSource put me back into business by providing an affordable product that actually teaches you how to do the procedure." Richard L, Florida
"You have the best videos! It's like being right there in class." Katherine B, California
"I love your fabulous videos, they are high quality." Lidia K, Germany
"The customer service is #1. Keep up the good work." Juliette N, Illinois
"I truly love the massage videos–they've truly boosted my knowledge …" John B, Arizona
"Very impressed with your educational resources." Ameera D, England