Boost your Profits with Eyelash Extensions
0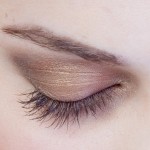 Boost your Profits with Eyelash Extensions
Boost your business with highly profitable eyelash extensions! No longer reserved for special occasions, models, or celebrities, this popular service provides consistent repeat business because of the natural cycle of eyelashes.
Housewives to celebrities want enhanced eyelashes to look younger and add vibrancy to their eyes.  With looks ranging from natural enhancement to dramatic flair, creating immediate and long-lasting lift and definition to the eyes, what's not to love?
You'll love the bottom line: full sets range from $75 to as much as $400-$500. The more lashes you use, the longer your service, so you can charge accordingly. A complete or full set for a first-time client can take up to 1.5 to 2 hours. A partial set is approximately one hour, and touch-ups and fills are from half-hour to an hour.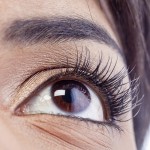 Whether you're an esthetician, makeup artist, or hairstylist, you can offer eyelash extensions to your clients.
Learn How
Lash extensions are available in a variety of styles and colors that can take a woman from a natural, everyday look to a luscious thick fringe perfect for a night out. Mastering the technique of how to apply eyelashes widens the services you can offer to your clients.
We can teach you the technique. The lash-by-lash extension application is an art that requires training, patience, and lots of practice. In Eyelash Extensions, Vol. I and II, Leslie Graham, a certified eyelash extension trainer and award-winning makeup artist, demonstrates how to provide this popular and profitable service.
With step-by-step instruction and extreme close-ups (that you can't get in a classroom setting!), Leslie shows you on how to:
Prepare your clients
Select lashes
Set up your workstation
Safely apply individual eyelash extensions
Remove extensions
You will also learn about:
Safety and sanitation
Precautions
Required supplies
Available product types
Client information and consent forms
Eyelash growth cycle
Aftercare instructions
Tips and tricks to make the application faster and more efficient
Get regular, repeat customers
Because you apply eyelashes to a client's natural lashes, when the client's natural lashes fall out, so does the extension. Most people have a four- to six-week life cycle for their natural lashes.
Since extensions are painless to apply, clients appreciate how easy it is to get the look they want, or to change their look as desired.
Learn techniques that apply to all lashes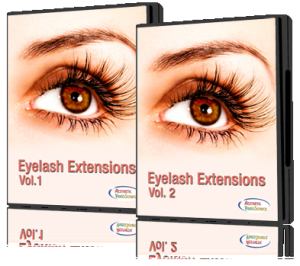 Our eyelash extension DVD is manufacturer-independent. Our two-volume series, Eyelash Extensions, is taught by award-winning certified eyelash extension trainer and professional makeup artist Leslie Graham, with technique that applies to all lashes, regardless of manufacturer. We're not locking you into a specific brand.
Learn how to provide different looks
In each volume, Leslie demonstrates multiple full-length applications.
In Eyelash Extensions, Volume I, Leslie demonstrates how to provide three looks on models of different ethnicities (African-American, White, and Asian): a dramatic look with "C" extensions, a natural "bridal" look, and an elegant look with a full set of mink lashes (the "crème de la crème" of extensions).
In Eyelash Extensions, Volume II, she demonstrates how to provide a full set of colored lashes, a glam look created with crystals, highlights with color, and a corrective set of lashes using "Y" extensions and cross-overs.
Be 100% confident when working on every single client. Make women look and feel beautiful.
Watch a sample of Volume 1. of this eyelash training video series below:
Watch a sample of Eyelash Extensions Vol. 2 in the
lash extensions video below:
About the instructor
Leslie Graham is an award-winning professional make-up artist in film and television, and a certified eyelash extension technician and trainer. She trained at the Westmore Academy of Cosmetic Arts in beauty and special effects make-up and at Miscencil as an Eyelash Technician and Trainer. Production credits include Night at the Museum, Ghostrider, X Men 3, and Battlestar Gallactica.
How to order
Each Eyelash Extensions DVD (Vol. 1: 2 Hrs. 59 Mins., Vol. 2: 2 Hrs. 32 Mins.) can each be ordered for $69.95 plus shipping, by calling 1-800-414-2434 or visiting www.VideoShelf.com. Both volumes can be purchased for $112.00, at a savings of 20%.